Hello neighbors!
We have THREE new classes this week on Live with Prima. Scrapbook.com is offering an extra discount if you purchase the products used in the classes-10% off! Coupon codes are good until the expiration date listed with the code. YAY! Enter the code at checkout for the discount to apply!
All classes are broadcasted live and we have a virtual chat during each class if you have questions or comments. See details of the classes below! All classes are recorded to watch later if you can't make the live class.
The recordings are on the same channel where you watch the shows. Just scroll down the page to see the listings. To participarte in the chat, create a free log in on ustream.com. Go to our Prima channel, sign in and start typing in the chat box next to the video screen.
Here is a direct link to our Prima channel on ustream:
http://www.ustream.tv/channel/primaflower
Hope you can join us for these fun and amazing classes! Great techniques and use of Prima products on all projects!
................................................
Painted Frame with Julie Fei-Fan Balzer
Monday, March 21st at 5:00pm PST/ 6:00pm MDT/ 7:00pm CST/ 8:00pm EST
coupon code: paintedframe
expires 3/24/2011
10% off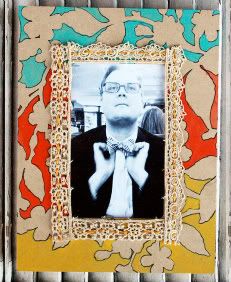 You'll be amazed at how quickly you can paint up a beautiful frame. And you don't even have to know how to draw! Julie will show you just how easy it is to use Prima's new Winter CHA products to create a beautiful one-­of-­a-­kind artistic creation! We'll be painting and sewing and making it totally unique!
•Frame: #220105-MDF Frame
•Mask: #545659
•Lace: 12" of each -545420 and 545406
...............................................
Floral Fun Layout Class with Cari Fennell
Tuesday, March 22nd at 11:00am PST/ 12:00pm MDT/ 1:00pm CST/ 2:00pm EST/ 6:00pm GMT
coupon code: floralfun
expires 3/28/2011
10% off
*coupon is only valid on these 4 available skus: pri-842468,pri-300968,pri -536077,pri-544232*
Let's take those large flowers and make a huge impact on our layouts. We will be using large sized Prima flowers and embellishments to adorn two layouts. Join me, to see the different ways they can compliment your photos and add a lot of fun to your projects!
•513115-Maxie Can-Boy
•539221-Temple Leaves
•543983-Craftable Flowers
•881504-Transparency
•842468-Parfait Madeline paper (2 sheets)
•300821-E Line flowers-Green
•300968-E Line flowers-White
•300616-E Line Pearls and Crystals
•535131-Raja Centers
•536077-Dynasty Centers
•544232-Alphabet
..............................................
Big Ten Card Class with Lolly Chessie and Daniela Dobson
Thursday, March 24th at 6:30pm PST/ 7:30pm MDT/ 8:30pm CST/ 9:30pm EST
coupon code: bigtencards
exp: 3/28/2011
Lolly Chessie and Daniela Dobson (from the Prima Design Team) have joined forces to bring you an action packed class! Join them as they create 10 beautiful cards. You pick your favorite sentiments from a 2 page free PDF download available below (just right click to save it to your computer). Lolly and Daniela will be teaching together from their local scrapbook store (The Little Blue House in Keller, TX)! ...and just a sneaky peep... Lolly has something planned for this class so you won't want to be late (think boot scootin' and banjo pickin' folks)!
•Madeline - Glittered Card Stock Stickers 544867
•Madeline 6x6 paper pack - #842161
•Regent Collection Cumberland - #548988
•Faience Cecilia - #542962
•Flowers Sculpture - #920968
•Extras: Card stock - craft and white. Enough to make 5 cards in each color at 5 1/2 x 4 inches per card, brown ink and cream colored acrylic paint.
If you have any questions-feel free to ask! There are also Prima moderators present during each show in the chats incase you need any assistance.