Hello and welcome!
I normally use stamps by stamping the image onto (usually) white cardstock and then cutting out the image and adding it on the layout as an embellishment. But that is just MY personal preference! There are tons of ways to use stamps! You can stamp them directly onto the layout, use them to make titles, etc. If you're just getting started, I would suggest just practice-stamping on some scrap white cardstock. When you get the hang of it, you may feel more comfortable stamping directly onto the layout. But you can always just cut out the image and layer it on the way I do. Here are a few examples:
On this layout, I used a flower, fence and "blessings" stamp. I stamped them onto white cardstock, colored them with markers/colored pencils and cut them out. You can see how they embellish the page: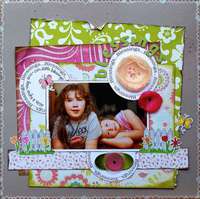 Blessings
By
Ami G
On this layout, I simply stamped the letters with red ink, cut them out as squares and made my title:
Red Letter Day (May/June Scrap n' Art)
By
Ami G
Here, I used the hearts and skulls directly on my background paper to add more interest. The scroll stamps are stamped with brown ink and cut out. The rose and the bird are stamped, colored and cut out, then topped with Glossy Accents for an epoxy look: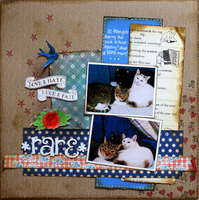 Rare (May/June Scrap n' Art)
By
Ami G
Here, the clock and the clouds at the top of the layout are stamped and cut out, then adhered to the layout: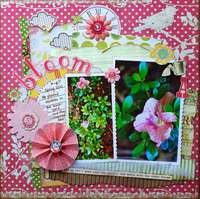 Bloom
By
Ami G
And here, behind the photo, I have stamped a floral stamp with brown ink, directly onto the paper in that recessed circle:
We Love The Fox (November/December 2009 Scrap n' Art)
By
Ami G
And here, I have used a circular stamp directly on the layout, behind the buttons:
Sweet Soul (Mar/Apr 2010 Scrap n' Art)
By
Ami G
Here, the hula girls, flowers and palm trees were stamped, colored, cut out and added to the page as embellishments: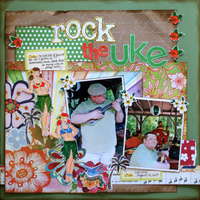 Rock The Uke (May/June Scrap n' Art)
By
Ami G
These are just a few examples. Stamps are so versatile. I also like to stamp one image onto plain cardstock (any color) repeatedly and make my own background patterned paper.
Hope this helps! Have fun!