Hey Neighbors!
Just wanted to let you know about a couple of Prima classes we have this week on ustream.com.
We have a class with Lolly tonight and Marion on Thursday night! See the class details below!
We record our shows so you can watch them anytime you like. Go to the same page and click on the lists of classes...
Create a free log in to sign in and chat too!
See the classes here on our Prima channel:
http://www.ustream.tv/channel/primaflower
Mini Canvas Journal with Lolly Chessie
Tuesday, May 3rd at 6:30pm PST(7:30pm MDT/ 8:30pm CST/ 9:30pm EST)
Join Lolly as she creates a mini canvas inspiration journal. This journal can be used to capture ideas, favorite clippings and fun doodles. It's a generous 2.5 inches thick and closes up for on the go creating! During class you'll learn fun techniques for creating gradient effects on Prima canvas using acrylic paints. Change the colors of this project by simply changing paint colors! It can be completely customized just for you!
Prima Products:
•537418-Alphabet Stickers
•542320-Purse Shape Canvas Album
•549770–Canvas Mistable
•850166-Transparency
........................................
Travel Journal Box with Marion Smith
Thursday, May 5th at 6:30pm PST
(7:30pm MDT/ 8:30pm CST/ 9:30pm EST)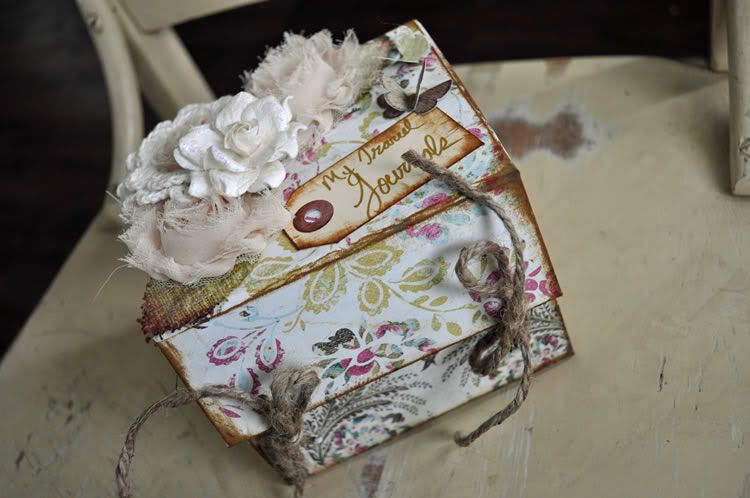 I always forget to document my travels, so I've come up with this cute little box to help me keep track of all my adventures! This box will hold 9 mini journals and they are the perfect size to carry in your purse. When you get back home, you can add your photos. The possibilities are endless with this design because you could also use for a recipe box, baby's first year journals, and so much more. We'll be using some of my favorite new Prima products to create this project. Hope to see you there!
Prima Products:
•546267- Arcadian Flowers-Weathered White
•547257-Annette Flowers-Amorette
•547523-Lovely Leaves-Green
•842390-Madeline-Parsley Place
•842413-Madeline-Parterre
•842420-Madeline-Parkway
•842437-Madeline-Skyward
•842451-Madeline-Pistachi o
•842468-Madeline-Parfait
•842475-Madeline-Spring Tide
•842482-Madeline-Ste. Marie
•921019 12 inches-Rose Trim-Cream