The challenge is to get into that scrap pile you have and use it to make some layouts.
Rules:
* Use at least 85% scraps, and don't forget about all those odd sized leftovers of ribbon, or those half used alpha sticker sheets, leftover embellishments etc. The base paper can be new if it has to be.
*New layout as of June 1, 2011. Must be uploaded by midnight of June 29, 2011.
* Have Fun doing it, no pressure Jump on in at anytime during the month
* Please public embed the image so I can link it on the front page. Just go to your gallery. Click edit and then down on the bottom it says "public embedding" or something similar. click that.
* Post your Layout here so that we can give it some love.
* It doesn't matter if the paper is old but it DOES have to be a scrap or left over from something!
*You can post as many scrap layouts you want
So come on and show us as many lo's as you can using that stash of SCRAPS you have lying around. This challenge is Laid Back. So if you made it with scraps we want to see it!!
** Please let me know if it meets the twist or not in the description or the post**
Linking instructions:
1. Go to Gallery
2. On the left side is a link "Share anywhere" Click on that.
3. Box will pop up "Embed this Image" click the circle for IMG code.
4. Right below that right click on the address and copy it.
5. Go to the challenge and in your reply use the right button on your mouse to "paste" it. Then it will show up.
** disclaimer ** I like to have fun on here! There will be occasions of teasing and laughter. So I hope you will enjoy it and if you don't let me know!!
TWISTS:
1) Have stamping somewhere on the project
or
2) Scrap about a place (this can be taken many different ways. A vacation place, a place to read a book, etc.)
** THERE WILL BE A RAK THIS MONTH ** I will randomly pick one winner from all the entries that meet the twist (just has to meet one of the twist)
Pages/Cards/Projects that meet Twist:
1)
buddies
By
Melissadam
2.
congrats grad
By
Melissadam
3.
Swapping glasses
By
Tinadn
4.
love you crandpa
By
Melissadam
5.
Bubbles and Dots
By
Kdinsmore
6.
Best Mom Ever
By
Kdinsmore
7.
RIU, Ocho Rios
By
Cveira
8.
Fathers Day card
By
Tinadn
9.
Life is just a bowl of cherries
By
Kdinsmore
10)
Delightful Sweet Memories
By
Kdinsmore
11)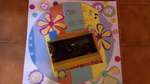 I'm A Believer
By
AshleyLadd
Pages/Cards/Projects:
1)
communion
By
Melissadam
2)
dad's girl
By
Cveira
3)
Father's day card
By
Tinadn
4)
Pick up the pieces...
By
Scrap-Police
5)
All Done!
By
Kdinsmore
6)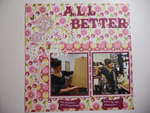 All Better
By
Kdinsmore
7)
you are my sunshine
By
Melissadam
Candlejar
By
Missfbk