Hey Neighbors!
We have another wonderful class lined up for you tonight with Julie Balzer! She is using the Copic Airbrush system on Prima canvas and paper-tons of great techniques as always...see class details below! The shows are recorded so you can watch it later if you can't make the scheduled time...
See the class here:http://www.ustream.tv/channel/primaflower
Eight Page Canvas and Paper Book with Julie
Tuesday, June 6th at 5:00pm PST/ 8:00pm EST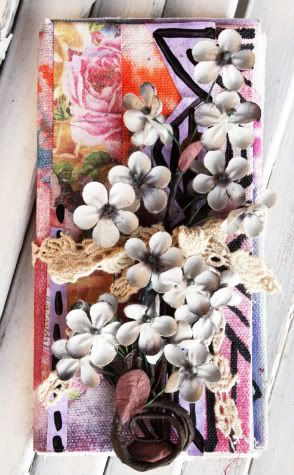 Learn how to transform a simple sheet of printed canvas into a wonderful eight-­‐page book! We'll be collaging, painting, misting, and masking our way to a beautiful and stylish book.
Prima Supplies:
• Cherry Blossom Branches Silver: #533700
• Lace (12 inches): # 545482
• Sweet Fairy Collection: Romantique: #843052
• Screenprinted Canvas: #921255
• Masks: # 882013
Other Supplies:
• Copic Airbrush System
• Copic Markers (BV08, YR09, B05, R27, Y15)
• Golden Fluid Acrylics (Bone Black)
• Liquitex Matte Medium
• Small Round Paintbrush, Medium Round Paintbrush
• Paint Palette
• Heat Gun
• Fabri-­‐Tac
• Cutting Mat
• Craft Knife
• Metal Edge Ruler
• Jar of Water
• Rag
• Scissors
• Pencil
• 2 pieces of cardstock
• tracing paper See More