Hey Neighbors,
We have a great show tonight on Live with Prima! Lolly is creating a Butterfly wreath using Prima Mistables!
See the class details below....
Watch the class here on the Prima channel:
http://www.ustream.tv/channel/primaflower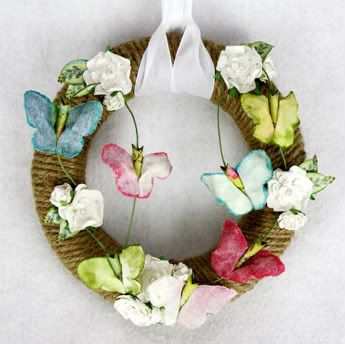 Learn how to create a pretty little wreath using jute twine and canvas butterflies! You'll learn how to suspend the butterflies on floral wrapped wire and twine them around your rustic wreath shape! This wreath comes together so easily and creates a stunning piece of wall decor!
•921255- Butterflies Screenprinted Canvas
•842451- Madeline Collection - Pistachio
•PE-546 (6 pieces)- Bulk Flowers (cream colored)
•546090- Innocence 2
Extra supplies:
•Styrofoam Wreath (10 inches)
•4 ply Jute Twine (55 feet)
•White Ribbon (16 inches)
•Distress inks (red, teal and green - any shade)
•2 Pieces of 12 inch long - fabric wrapped floral wire