Hey Neighbors! We have a great class tonight on Live with Prima! Jamie Dougherty will be creating a fabulous art journal with tons of techniques and ideas!
Watch the live and recorded shows here:
http://www.ustream.tv/chan​nel/primaflower
Mini Art Journal with Jamie Dougherty
Thursday, August 11th at 6:30pm PST/ 9:30pm EST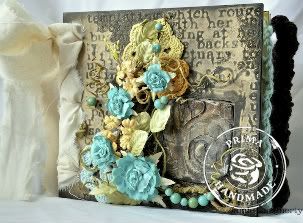 In this class, Jamie will be teaching some fabulous techniques using the Prima masks and stencils with clay to create three dimensional embellishments. You will also learn how to crochet on the edge of your album as well. This will be a journal where there are no limitations! You will be able to customize the album using the colors and paints you choose.
Prima products:
518363- Chipboard 6 x6 embossed album
882020- 5 piece stencils
548803- Love Note Collection- Melody
549572- Aire Collection
549107-Latte Summer Carnation II
890575- Build-a-Book Stars
Extra supplies:
Liquid adhesive (Beacon Quick Grip)
White mat spray paint
Gesso
Glimmer Mists Colors used (Chalkboards-Medallion, Decadence, and Charcoal)
Tim Holtz Distress Embossing powder-Walnut Stain (Any dark embossing powder will work just fine)
Embossing ink pad
Black ink pad
Distress ink pad-Pumice Stone
Heat Gun
Black marker
Beads
Muslin or ribbon for binding
Yarn and crocheting needle (Needle gage used I/9 - 5.50MM)
Paper scraps and mediums to finish your book