July 2012 Member of the Month

CONGRATULATIONS Sassie
_____________________
Sassie's Info
:
I'm Laura; I love to laugh, joke & have a good time. I love mixed media arts, working with canvas, making ATC's.
I have found the love of my life, weve been together for a wonderful year with out 1 fight!
I have 2 cats & an African grey parrot. So I dont do typical sb'ing, Im more an altered art, mixed media lady.
I love movies, handmade gifts, gummy candy & Im a diet pepsi addict!
I have a huge wishlist here, I also love things off this site also. My top wish's would be anything Dylousions, sprays or her stamps, she is one of my heros! I also LOVE collage sheets which can be emailed to me directly there are loads of them that i love on
*http://www.deviantscrap.com/shop/home.php
*Etsy - Favorites
http://www.etsy.com/people/ohiolady419/fa
vorites?ref=si...
*Pintrest -
http://pinterest.com/lauraohio/wish-list-o
f-things-i-wa...
*Please DO NOT BUY, I will not use: Stickles, ribbon, flat stickers, glitter or distress ink's. Thank you, but I either have all I want or dont like them.
Just a friendly FYI
My address is:
Laura Brown
11031 county road 10-a
Bryan, Ohio 43506
______________________
HOW IT WORKS
:
A new Member of the Month will be drawn randomly each month.
To have your name entered into the drawing, simply send a package of goodies (no price limit) to the current Member of the Month based on the information that has been provided(see current MOTM info above).
If your name is not chosen for next month, don't worry; your name will stay in the drawing as long as you send a package to the current Member of the Month. Entries are cumulative. (For example: if you have sent packages to the current MOTM's for 3 months in a row and haven't been selected yet you have 3 entries.)
If you do not send goodies to the current Member of the Month for 2 consecutive months your name will be removed from the drawing and your number of entries reset to zero. But no worries, because you may re-enter at any time by sending a package to the current Member of the Month.
If selected as Member of the Month your number of entries into the drawing is reset to zero and you are ineligible to win for the next 2 months.
Even though you are not eligible to win for 2 months, you are still encouraged to send goodies to the current Members of the Month because on the third month, when you are eligible again, the number of entries you have will be determined by the number of packages you have sent (up to 2).
______________________
RULES
:
• As Member of the Month you must post when you receive packages and keep a current list of people who have sent in for the month.
• On the last day of the month the current MOTM will randomly select a winner for next month!
• Your package must include goodies that the MOTM can use based on the information provided. For example: If the MOTM states that she only has teenage boys please do not send pink baby ribbon.
______________________
2011 WINNERS
January - SCRAPPINLILLY
February - MEGAN ANN
March - SASSY SUZI
April - LIZZIEP
May – SHELLY_ANNE00
June - LOOKING4NEWIDEAS
July - SCRAPBOOKSUSIE
August - 6TA
September - MEGAN ANN
October - SCRAPPINLILLY
November - LOOKIN4NEWIDEAS
December – SASSY SUZI
______________________
2012 WINNERS
January - SHELLY_ANNE00
February - LATTE_MEMORIES
March - AMANCUSO
April - SCRAPBOOKSUSIE
May – BLUUCACA
June - MOONPUFF
July - SASSIE
August -
September -
October -
November -
December –
______________________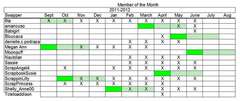 Member of the Month (MOTM) Swap
By
Scrapbooksusie
If you see that I have missed marking a month please post a comment to the picture in my gallery! Thanks!
We'd love to have you play along with us, it's so much fun!!! If you have any questions just ask!