We have two amazing classes on Live with Prima this week-both are wonderful for holiday gift giving! Join us for these live classes and if not-you can watch the recordings on our Prima channel on Ustream.
See the classes and recordings here:
http://www.ustream.tv/channel/primaflower
..............................................
Winter Wonderland Book Project with Jamie Dougherty
Tuesday, November 15th at 5:00pm PT/ 6:00pm MT/ 7:00pm CT/ 8:00pm ET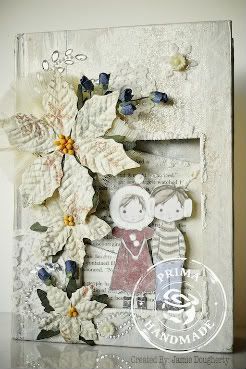 Jamie will show you haw you can take a boring hardback book and turn it into a winter wonderland. This can make a fun piece for the mantel or a cool little hiding place for valuables.
Prima Products:
842857-(2)-Celebrate Jack and Jill
544614-Say It In Crystals and Pearls
547776-Valenciennes-Mercy
FL-558-22/2-Tiny Rose Buds
553463-Medley-Midas
543150-Holiday Celebration-Snowflake
550851-Flocked Rub Ons-North Country
890964-Comfort Craft Knife
Extra Supplies
Hardback book 5 1/2 x 7 1/2 Used
Craft Knife with extra blades
Glimmer Glam-Chandelier, Grand Teton
Clear Glitter
Glimmer Mist-Suede
Puffy Velvet Fabric Marker by Marvy (found at Michaels)
Gel Medium
Paint Brush
3D foam squares
Liquid Adhesive
Heat Gun
Ruler
Pencil
..............................................
2012 Wall Calendar with Lolly Chessie
Thursday, November 17th at 6:30pm PT/ 7:30pm MT/ 8:30pm CT/ 9:30pm ET
Come hang out with Lolly as she shows you how to create a calendar wall hanging for 2012. Print each month using her free template (link below) on vellum so the pretty mask underneath peeps through! You'll be painting, spritzing, sewing and masking your way into 2012 with this project!
Prima Products:
843298-North Country Collection: SnowFall
843281-North Country Collection: Forest Notes
545604-Mask
546885-Treasure Rae Flowers: Georgia
538620-Fairy Tale Roses: French White
546052-Innocence 2
552411-Coiled Pearls: Grace
553647-Vermont Leaves: Ocre
532772-Fairyring Flowers: Honeydew
Extra Materials:
Light colored burlap (1/2 yard)
Jute twine (2 feet)
Wooden Yard Stick
Folk Art Paint (Yellow Citron #503)
Glimmer Mist (Dragonfly, Apple,& Trunk Blue)
Mod Podge
1 inch Paint Brush
Hot Glue
Scissors
Glossy Accents (or other quick dry glue)
Sewing machine (optional)
12 - 8.5x11 sheets of vellum paper