Hey Neighbors!
We have two holiday themed classes this week on Live with Prima! Cari will be creating a tag set using North Country stamps and Sharon will be making a fabulous mini book from Prima packaging!
Join us for the classes "live" or watch the recorded show later:
http://www.ustream.tv/channel/primaflower
We also have live chats during each show so you can ask questions regarding the projects or about Prima products....it's fun! Create a free login at ustream.com, then sign in and go to the Prima channel link above...
......................
Wintery Tag Set with Cari Fennell
Tuesday, December 6th at 5:00pm PT/ 6:00pm MT/ 7:00pm CT/ 8:00pm ET/ 12/7-1:00am GMT/ 12:00pm Sydney
Glitter glass flakes, Platinum embossed images and blissful sentiments are what you will find on each one of these vintage style tags. Join Cari as she creates 8 original tags using Prima stamps, flowers and more, just in time for the holidays!
Prima Products:
890940-Comfort Craft Distress Tool
551391-Say It In Crystals
550134-Tiny Alphas-Alla Prima
551049-North Country Stamp Set
547547-Cute As A Button-Precious
553821-Mulberry Paper-Printery
540272-Innoscence Collection
552480-Avon Rose-Printery
551155-North Country Reflections
553456-Vine
527075-Velvet Leaves
..........................
Upcycled Christmas Mini Book with Sharon Laakkonen
Thursday, December 8th at 6:30pm PT/ 7:30pm MT/ 8:30pm CT/ 9:30pm ET/ 12/9-2:30am GMT/ 1:30pm Sydney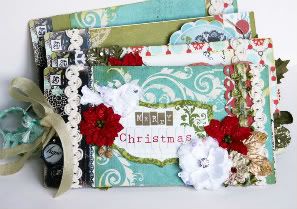 Join Sharon for this innovative class, as she creates a one of kind mini book, made from Prima's gorgeous packaging. She will adorn this project using Prima's North Country Collection, holiday floral embellishments and more. This is a great class to get the most out of your stash and create a custom look, using papers and trim in unique ways.
Prima Products:
552589-North Country-Jardinere
553289-North Country-Coventry Roses
552473-Avon Roses
553456-Vine Gold
553418-Holiday Crimson
550127-Alphabet
549992-SIIC Branch
930011-Vintage Trinket
550516-Trim
550523-Trim
552923-Melody Flower Set
553036-Gillian Flower
843243-North Country-Wonderland
843274-North Country-Icicles
843311-North Country-Glacier Roads
843281-North Country-Forest Notes
843267-North Country-In the Forest
843250-North Country-Red Deer
553593-Splendor Leaves
4 pieces of packaging