Hey Neighbors!
We have a really fun project on Live with Prima tonight. Lolly is creating a home decor piece using Prima goodies, such as resins and flowers. Join us for the live broadcast or watch the recording later...you can do both at the link below:
http://www.ustream.tv/channel/primaflower
Beauty of the Earth Shadow Box with Lolly Chessie
Thursday, January 5th at 6:30pm PT/ 9:30pm ET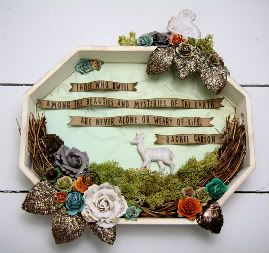 Watch as Lolly shows you how to create a beautiful nature scene fit for any room. We'll be taking a small wooden tray and filling it with loads of flowers and some of Prima's new resin products! You can download and print the phrase from the PDF link below on kraft card stock paper or use your favorite special quote instead!
Prima Products:
843328-Alla Prima paper-Low Key
549060-Sugar Blooms Melody
553494-Aglow-Mica
890827-Shabby Resins-Deer and Squirrel
552503-Avon Rose-Romantique
546885-Treasure Rae-Georgia
Extra Materials:
Unfinished Wood Octagon Shadow Box-10in wide
Twigs
Jute Twine
Deer Moss
Acrylic Paint-Warm White
Distress Ink-Walnut Stain
Kraft Cardstock-8 ½ x 11 in
LiveWithPrima_LollyQuote.pdf