LETS GET ORGANIZED!
We will begin Feb. 1st 2012 it will end when you have a more beautiful and functional space (we will try to finish in the month of Feb). It is just for fun and to make scrapping easier.
Who would like to join me in this project? The lvl of commitment depends on how much scrap stuff you have and how unorganized it is. Here is what I will put forth to help you along the way.
1) One weekly organizational Topic
2) One weekly creative project (mostly decor or alteration and others)It might be mixed in with the organizational ones.
3) Mini Organization Challenges - Three Weekday and one Weekend Challenge
4) Fun and inspiration with everything from room colors and decor to organization and storage options ON A BUDGET!!!
5) Encouragement to finally get things organized to make it easier to scrap!

To sign up you will need to do/answer the fallowing:
1) Name/user name
2) Type of scraping area (closet, corner, room etc.)
3) Your biggest problem area that is hard to keep organized.
4) The link to your new album to keep your pics in or post in the one from last year... if you are returning, your choice. Please create a new album in your gallery to upload all of the before and after pics, ingenious ideas and problem area pic.
So come and join me in cleaning up our areas and making the scraproom a place that will inspire creativity and allow us to crop till we drop.
Are you excited??? I am! Just to keep you excited, there will be a few optional PreChallenge Challenges! Keep an eye out for the Bold red posts.
Here is my scraproom before a couple of years ago...
http://www.scrapbook.com/forums/showtopic.php?fid/18/ti...
This is my Before and after for last year... just for you to see an example. This was when I was in my old house and just had a corner to dedicate to my scrap area.
BEFORE (my current room 2011):
Do I dare share?
By
Hanging By A Moment
AFTER (my current room 2011):
Scraproom Final 2011 left side of room
By
Hanging By A Moment
Scraproom Finished 2011 view of right side
By
Hanging By A Moment
Finished room - 2011 Display wall
By
Hanging By A Moment
BEFORE (my old corner 2009):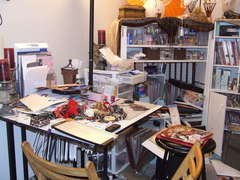 My Scrap Corner BEFORE 09'
By
Hanging By A Moment
AFTER (my old corner 2009):
The Entire Area - The end is near
By
Hanging By A Moment
LINKING LAYOUTS TO THE THREAD:
1. Go to the layout in your gallery.
2. Go to the Share section on the left-hand side and click on "Share Anywhere".
3. Click on "IMG code" button.
4. Copy and paste the code and paste it into this forum thread.
ALLOWING PUBLIC EMBEDDING:
1. Go to the layout in your gallery.
2. Click on "Edit Image" tab at the top on the left side of the layout.
3. Scroll down to the bottom left side.
4. Check the box that says, "Allow Public Embedding".