I came across this neat challenge over at the Scraputante blog,
so I decided to post this challenge here and invite all of you to play along with me
There are so many beautiful French lines coming out: We have Glitz Designs French Kiss, French Canadian Harmonie's Shabby Love and now Prima's En Francais...
So, here is the challenge...
1) please let me know if you will be participating in this challenge
2) Post your project here by March 31st. Your project can be a layout, digital layout, altered project, or card.
3) your project must include at least three of the following: an eiffel tower, a french word or phrase, a fleur de lis, a crown, a dress form, lace. Colors and style are up to you.
4)On April 1st, I will ask that you submit to me your top 3 via private message. I will set up a poll and everyone will vote for the winner.
5)The winner will receive a RAK from me.
ITS TIME TO VOTE! PM ME YOUR TOP 3 AND I WILL POST A POLL TOMORROW EVENING!

THANK YOU SO MUCH FOR PLAYING! HOPE TO SEE YOU NEXT MONTH!
Most of all have fun with it!
Participants:
1)MrsAnnieS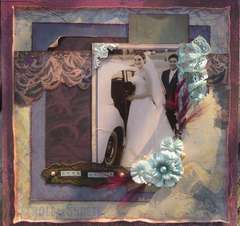 Ever After
By
MrsAnnieS
2)SnowDog
Summer Vacation
By
SnowDog
3)LadybingTammy
Les Ponts du Paris - Alexandre III
By
Ladybing Tammy
4)GentlewoodFarms
Oh To Be In Paris In May
By
GentlewoodFarms
6)joydee1963
Feeling french challenge
By
Joydee1963
7)SonjaC
Paris - La ville de la Seine (2pg) *Scraps of Darkness*
By
SonjaC
9)dollscrap
Roux
By
Dollscrap
10)star77
no title
By
Star77
11)DreaSlee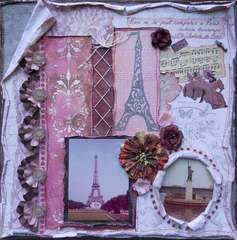 Nothing can compare to Paris
By
DreaSlee
12)Dawna.sPlace
Dreaming of Paris
By
Dawna.s Place
13)laceyKat
My Fairy Doll House
By
LaceyKat
14)dancinirish90
Les Miserables
By
Dancinirish90
15)jojo noons
Mon Petite La Fille
By
Jojo Noons
16)parisdame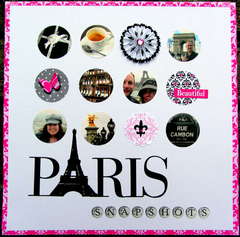 Paris Snapshots
By
Parisdame
17)Tena E
How to wear a beret
By
Tena E.
18 )silver26AK
19)
20)
Can't wait to see what you come up with!
Here is my Example:
Moulin Rouge **Scraputante**
By
Newtoscrapping2011