Hey everyone!
I'm coming to you yet again with another swap!!!

I was asked to host this one by a couple of lovely ladies and of course I was eager to oblige!

So here we go! I actually went to the thrift store with my oldest dd the other day and of course found allot of different puzzles for sale. I picked up 2 boxes of 24 piece puzzles at 69cents a piece! You can't beat that! Then I saw some brand new ones at the Dollar Tree, so you can pretty much find them without a problem! Here's the rundown!

Puzzles Pieces:
Let's stick with the 24 piece size puzzles for altering. I measured the ones in my boxes and they all measured to about 3 inches or just under and I think that's a good size to use as an embellishment and or on the cover of a mini album. If you get the puzzle pieces from a box that has a higher number (quantity) but the pieces still measure out to about that size, that's fine. I just don't think we should use the tiny ones or the big gigantic ones!


Altering:
Please use a minimum of 5 embellishments/techniques to alter your pieces.
Ex: 1. Cover with sb paper 2. Ink the edges 3. Use some ribbon 4. Add a stamped image or die cut 5. Add some bling or stickles
Again, this is just an example of how easy it can be to alter a puzzle piece but still turn out fabulous! I just altered this one before I started this thread!

I covered it with printed paper. I cut the paper just a tid bit larger and used a emery board to distress the edges. After that I inked the edges with some brown ink. Added the ribbon at the bottom and used a little piece of transparency in the middle. Added some bling and a flower and viola!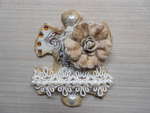 My 1st altered Puzzle piece! By Ms_Pebbles

Swap amount:
We will alter the pieces to fit the categories below. You can send as many as 4 pieces per category or as little as 1. The amount you send in, (up to 4) will be the same amount that you get back. This way we will not have to worry about flakers!

Due Date:
Sign ups will be open from now until June 4th and the pieces will be due to me (not post marked) by

July 28th

! That's about 2 months to create. I am a real stickler for deadlines and due dates, so please be on time or your items will be returned to you. Overseas crafters are welcomed but your creating time will be less since your packages will take longer to get here. PM ME FOR THE ADDRESS IF YOU DON'T ALREADY HAVE IT.

Return Postage:
You have the option of sending return postage with your package or sending it via PayPal. The PayPal address is pebblesh (underscore)

[email protected]

If you send postage with your package please make sure you include the amount that it cost to get it here plus 3 extra stamps. If I don't need the extra stamps, I will send them back to you. Bag each set in a baggie and insert a note stating which category it's for and your screen name.

A
next to your name will mean I have received your package!

Please let me know if I missed anything and if you want any categories added!
Amusement Parks/Carnival

1. Ms. Pebbles
2. Erin
3. Melissa


4. Nicole


5. Karmax3
6. Molson


Independence Day/Fireworks

1. Ms. Pebbles
2. Pam
3. Erin


4. Uscphan88




5. Nicole


6. Karmax3
7. Molson


Primary Color Birthday

1. Ms. Pebbles
2. Pam
3. Melissa


4. Nicole


5. Karmax3
6. Molson


Blingy Diva

1. Ms. Pebbles
2. Pam


3. Uscphan88




4. Nicole


5. Ashley
6. Karmax3
7. Molson


Butterflies

1. Ms. Pebbles
2. Pam


3. Uscphan88




4. Nicole


5. Ashley
6. Karmax3
7. Molson




Creators:

1. Ms. Pebbles

2. Pam

3. Erin

4. Melissa



5. Uscphan88




6. Nicole


7. Ashley

8. Karmax3

9. Molson