Back story - I started scrapbooking when my son was about 2 or 2 1/2 years old so I've been playing catch up. As far as his albums go, I started with his baby album, then I did an album for 1-2 yrs. old, 2-3 yrs. old....wasn't enjoying doing these albums so much, it began to feel like work. I had an epiphany, realizing that there was nothing forcing me to scrapbook chronologically....so I jumped ahead to his 5-6 yr. old album, which is stuff from last year. I'm enjoying it and I'm doing more pages that tell a story, rather than just event scrapping.
Now, my issue is......if I continue to do an album for each year, including birthdays, Christmas, swimming lessons, etc....they will all look a lot alike...I mean, how many pages of swimming lessons/soccer etc. does one need? I recently did a couple pages for his 5 yr. album that were more story based (see photo below), pulling photos from different times of the year (instead of my usual chronological pages within my chronological books) and I really enjoyed creating them....
Should I just start doing random pages? If I do that, what do I do with all the photos from 3 & 4 yrs. old?? Do I not include all the swimming stuff, soccor stuff, holidays etc. that look the same? Do I continue doing a chronological/predictable album...then at what point do I switch over to random (story-type) pages?
What do you all do? How do you scrapbook?
If you do chronological, do you find yourself repeating the same type of pages? Does that bother you?
I need help! I can't get it straight in my head, how to tackle this......
Thanks for any help, ideas, opinions!
ALison
P.S. I also do a Project Life album and the occasional mini book, planning a heritage album and a book of me so these quesions are really focused on my son's albums.....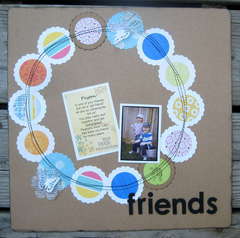 Friends
By
Kiyawinn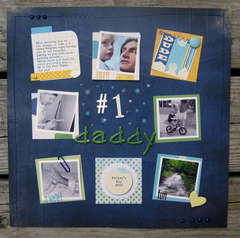 #1 Daddy
By
Kiyawinn