I have a 2 day crop coming up this month and I'm getting prepared now.
I have about 40 pages already made into kits with the paper, embellies, photos - everything in files so all I have to do is assemble the pages.
I also sketched out where I want things to go so I can make mats and glue and get things completed.
If it requires a punch, I am just taking the ones I actually need for particular pages.
I'm doing Cricut labels in advance, lifting them onto Drywall tape and then putting them on typing paper so I don't have to take my Cricut.
I will take my Slice - I like the way it does smaller letters better and will use it on some and will actually make those letters at the crop. BUt I alreayd know what I want the titles to say.
If I need to ink edges, most of that is already done.
Usually it takes me 10-15 minutes to finish a layout - sometimes 30 minutes to finish one but I go home with a lot of pages finished and I don't take everything I own. I know exactly what I need for each page.
I have a craft wagon which I love and it is the best thing I have ever found for crops. If there is room I put it behind my chair and work out of it. Really keeps it simple!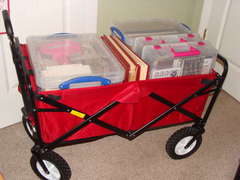 My Little Red Craft Wagon
By
Henri Jean
I just make sure I have plenty of ATG tape and my trimmer and the essentials like that. But I don't take a lot of stuff I don't need - and that is easy to do when you plan out all your pages in advance so all you have to do is put them together.
Plus I am able to talk to the ladies and enjoy the crop and not be working through slumps or blocks or trying to come up with ideas. SO many of the ladies just move stuff around on the paper trying to decide what to do - for hours - and then complain becuase they got nothing done. I like to get stuff done at crops!
That cart is amazing Henri. I can see hhow great it would be at a crop.