Graphic 45 Nutcracker Sweet Ornament Swap
This is a swap where you have to make 4 ornaments (do not count yourself) for each group you enter. Each group will have 5 participants. You can only use G45 Nutcracker Sweet paper line and any other embellishments you wish. Because this is a high end swap you must use at least 3 embellishments (buttons, lace, ribbon, bling, etc ). No stickers excepted.... Ornament can be made of any medium like wood, chipboard, fabric etc., 2 or 3 dimensional, no flimsy paper excepted.
If you don't have paper yet SB.com has it so order asap.

This swap deadline is Dec 10th,
because we want these ornaments for Christmas you must mail no later then the 10th of Dec, no excuse. If you feel like you won't be able to complete it by due date you must inform me ASAP prior to due date .
If you are international that includes Canada please mail 1 week earlier.
You will be responsible for mailing one ornament to each person in your group. Please do not join more then you can handle, remember you will be receiving 4 beautiful ornaments for each group.
I will add more groups if needed.
Ok lets have fun......
If someone flakes you will be short one ornament unless I am able to get someone to angel. So you join at your own risk.
Group 1
1. ScrapSmart
2. Dixie Leah
3. Pam In TX
4. Lorna Lee
5. Drayia
Group 2
1. Bobbij
2. DKravec
3. Dawna.sPlace
4. Martica
5. Made With TLC
Group 3
1. HVN101
2. Tneal40
3. 1Heart
4. Tcletoaddison
5. Under5Feet/Corky
Group 4
1.
2.
3.
4.
5.
Creations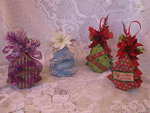 Nutcracker Sweet Ornaments for Swap
By
Martica
Nutcracker Swap
By
Tneal40
Ornament for Martica's graphic 45 Nutcracker Swap
By
Made With Tlc
Ornaments
By
DKravec
Graphic 45 Nutcracker Ornaments
By
Lorna Lee
Graphic 45 "Nutcracker Sweet" Ornament Collection
By
Scrap Smart

Christmas Ornaments
By
Dixie Leah
Graphic 45 Nutcracker Sweet Ornament Swap‏
By
Hvn101
Graphic 45 Nutcracker Ornament Swap (front)
By
Under5feet

Graphic 45 Nutcracker Sweet Ornament Swap
By
1Heart