September's Winner: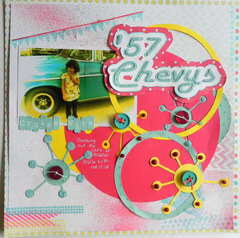 '57 Chevy's - September Color Challenge & Page Maps Etc.
By
LesleyC
October can be so many things - Fall colors, Fall activities and Halloween. We are going to save the Halloween colors for next month so this month is non-traditional fall colors - forest green and lavender. You can use one accent color of your choice or just use the two colors, but the majority of the page must be the forest green and lavender, all one or various shades.
RULES:
1. Your must use these two colors as the main colors of your layout either alone or with only one accent color of your choice.
2. Any size of layout, digi or paper, one or 2-pages are allowed.
3. Only one layout per person can be submitted for voting.
4. You MUST allow public embedding to be entered into the challenge.
5. You can only upload new layouts from Monday, October 1st until Wednesday, October 31st, 2012 at 5pm GMT/9am PST (sb.com time). Open to new entries anytime during the month.
6. PLEASE LINK THE PRODUCTS USED ON YOUR LAYOUT - it's great to find out what lovely products you have used.
7. Only when the challenge has been closed, PM me the numbers of your favorite 3 layouts. The layout with the most votes, wins!
8. Don't vote for yourself as you will get a vote from me for pm-ing yours.
9. Try to leave comments on the layouts entered in the challenge – everyone needs a little love.
10. Have fun!
ALLOWING PUBLIC EMBEDDING:
1. Go to the layout in your gallery.
2. Click on 'Edit Image' tab at the top on the left side of the layout.
3. Scroll down to the bottom left side.
4. Check the box that says, 'Allow Public Embedding'.
LINKING LAYOUTS TO THE THREAD:
1. Go to the layout in your gallery.
2. Go to the Share section on the left-hand side and click on 'Link/Embed Image'.
3. Click on 'IMG code' button.
4. Copy and paste the code which starts [url...] into the forum thread.
Here are a couple of pages using the softer shades. I hope to do a couple of pages with the deeper tones. Both make beautiful pages!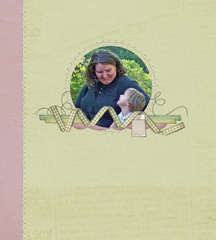 Susi and Leea 2009
By
PamStewart.Iowa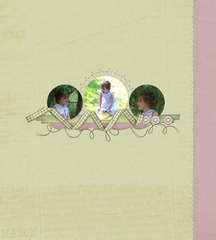 Leea 2009
By
PamStewart.Iowa