Forever Calendar Plaque Swap
Hurry and sign up you have until Sunday afternoon.
Deadline to complete project is Jan 30th it must be shipped the week of Jan 31st.

This is a fun to do project that you will treasure and use for a very long time. *I would like to thank Deb Kravec for sharing this idea with me.
You will need a wood plaque that measures minimum 15 inches wide. I found an inexpensive 18 inch wood plaque at Micheals for $3.99. You will need 12 small prefferably wooden chips in any shape for every month of the year. See below picture of sample. You will alter plaque and 12 chips with months to your partners liking in style, color or/and theme. You can paint it, use paper, crackle it, use fabric just be creative and unique. You can use any word for plaque. You can attach chips/months to plaque with hooks, Velcro or any other unique way. And if you have a way to do this that we have not thought of please share with us so that we can maybe use your idea. Your partner will then add her own chips in any material like wood, plastic or chipboard under every month of all the names and dates desired once she receives it.
Here is a list of materials needed:
Wood Plaque (1)
Wood Chips (12)
Round Jump Rings 12mm( jewelry sections of craft stores) (12)
Eyelet Hooks (12)
***Added chips for name and dates will be furnished by receiver when she gets plaque. You can make chips for that of chipboard to reduce expense***
Drill for making holes on chips if needed, you might be able to use your Big Bite instead
If desired "remember that plaque needs to be hung so make sure you add ribbon to the top of it"
Paint
Paper
Ribbon
String
Velcro
Embellishments any kind
Lace/trim
This swap will end on Jan. 30th so you will need to mail the week of the 31st.
I will partner each of you. It will not be a ss swap this time because I want you all to communicate with your partner on your likes for the plaque.
I have added three groups to start it. If you want a different style please let me know and I will add it.
If joining for 1st time in my swap you must furnish me with your full name and address. When mailing you must add tracking # to package, you must mail the week of the 21st of Jan it is a must.
***If you have flaked in any of my swaps or someone else's swap you will not be welcomed here, so don't bother joining.***
***If you are not sure you will be able to complete it on time, please do not sign up***
Here is sample: this is blog of how it was done:
http://acraftyescape-kati e.blogspot.com
Look for Family Dates Sign for instructions.
Here is what I bought at M's.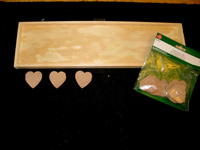 Material Needed For Swap
By
Martica
Groups
Shabby Chic
1. Linny
/ Lorna Lee

FOREVER CALENDAR with hanger.
By
Linnny
Shabby Chic Forever Calender
By
Lorna Lee
2. Dixie Leah
/ DKravec
Birthday Plaque for Martica's swap
By
Dixie Leah
Forever Calendar Plaque
By
DKravec
Vintage
1. Pam In Tx / DawnasPlace
"Love Family Time" Vintage Birthday Forever Calendar
By
Dawna.s Place
2. Your Scrap Attack
/ Tneal40
Forever Calendar Swap for YourScrapAttack aka Rhonda
By
Tneal40
forever calendar
By
YourScrapAttack
3. CraftyTwin
/ Martica
Forever Calendar For Lattaris
By
Martica
***FOREVER CALENDAR***
By
CraftyTwin
Steampunk
1. KMorgan1962 / Pam In Tx
received calendars