This forum is OPEN to anyone who wants to play - no sign-up required!
**The following is borrowed from our monthly hostess, Pat, GentlewoodFarms. I'm filling in for her this month since she's recovering from an illness!! We all hope you're better real soon, Miss Pat!!**
When I first started scrapbooking in 2004, I did not understand scrap lifting. I teach school, and it felt like cheating to take someone else's project and copy it. But I've learned that it's not really copying - it's more like research, as long as you quote the source. In fact, MOST scrappers take it as the ultimate compliment when someone likes their work enough to want to recreate it for their own albums. I know it flatters ME when someone lifts one of my little projects. And I've marked almost 200 projects in the gallery as "favorite" with a plan to lift them some day.
It's someday.
This challenge is simple: Go into all those layouts you have checked as 'favorite', choose one and lift it!
Lifting means to take an element, design, style or format of another LO you admire, apply it to one of your LOs and make it your own.
****************
RULES:
1. No sign-ups required, join anytime!
2. Any size of layout, digital or paper, one or 2-pages are allowed.
3. You must share the link or photo of the LO you lifted.
4. Only one layout per person can be submitted for judging, but you are welcome to share other pages you've done!
5. You MUST allow public embedding to be entered into the challenge.
6. Please source any products you use. It's a great reference for the rest of us!
7. Layouts must be new as of today, and must be posted by midnight, January 30th.
8. When the challenge ends, **CHANGE FOR THIS MONTH** I'll chose a winner with the random number generator.
9. Give love = Get love.
10 Have fun! (duh!)
ALLOWING PUBLIC EMBEDDING:
1. Go to the layout in your gallery.
2. Click on 'Edit Image' tab at the top on the left side of the layout.
3. Scroll down to the bottom left side.
4. Check the box that says, 'Allow Public Embedding'.
LINKING LAYOUTS TO THE THREAD:
1. Go to the layout in your gallery.
2. Go to the Share section on the left-hand side and click on 'Share Anywhere'.
3. Click on 'IMG code' button.
4. Copy and paste the code which starts [url...] into the forum thread.
******************
Let's have fun creating!!
Example:
I lift from -Robbie- Her lo:
Best Buds **New Little Yellow Bicycle**
By
-Robbie-
My take on it: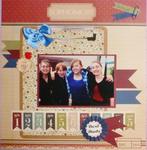 Friends
By
FinallyMama