Hi girlie girls!
Welcome back to the ABC Challenge. Since we're ready to start a new round, I've been doing a little thinking about giving this challenge a creative overhaul. Last month, we played a wild card round, and we seemed to have a lot of fun with that. I wanted to figure out a way to include that idea and give the players a little more creative license.
Here's how we're going to do it.
1. Each month, there will be three letters of the alphabet that are used to spin the challenge specs. Two of the months will have a fourth "wild-card" choice.
2. For each letter, there will be
three categories
of specs :
1 - Color
2 - Word or Topic
3 - Technique or Product
3. Your challenge is to create
ONE SINGLE LAYOUT
.
4. Your job will be to choose one category for each letter, making sure that you use all three categories.
You are to use all three letters and all three categories, but only one from each group. In other words, each letter and each category will be represented only once on your page. I hope this makes sense, but if not,

please ask me to clarify

. I'll be working up a sample and have it posted soon!
Example : If you use A for Aqua, you cannot use A in the other two categories. You will have to use B or C in Category 2. If you were to select C - Cherish, that means that you must use B - Brads in Category 3. Each letter once, each category once. Hope this helps.
5. How you interpret the categories and colors is up to you.
6. When you post your layout - post how you interpreted the letters and categories so that others can benefit from your creativity!
7. Your layout must be new as of today and is due no later than midnight the last day of the month.
8. Please allow public embedding for your projects so that they can be posted on the front page.
9. Digital or Paper - doesn't matter.
10. Stacking is permitted. Use your project to play in as many challenges as you can make it fit!
11.
Random.org decides the winner
. No voting pressure!
A Word About Comments
I don't want to limit the number of players or exclude anyone who wants to play, but there is a certain realistic limit to how much time you can spend commenting on projects. Most members I've talked to here believe that it's better to get a genuine, heartfelt comment from someone who really wants to leave it as opposed to a "drive by" from someone who is only commenting because they feel like they have to. If you want to leave love, then by all means, you should do that. If you don't have time to do more than just drive by and wave, then we all understand that too. Jami Bishop, a wise woman in another forum says, "REAL LIFE IS MORE IMPORTANT." I'm stealing her words and adding them here."
And, as always...
HAVE FUN!
*****************
Choose One from each category. Do not use the same letter more than one time.
Color
A - Aqua
B - Blush
C - Cardinal
Word - Topic
A - angels
B - babies
C - cherish
Technique - Product
A - antique embellishment
B - brads
C - crinkled paper
Here's my sample for you to peek at!
A = Antique Embellishment (the little valentine card)
B = Blush (the color)
C = Cherish (the metal tag and topic)
Girl In The Park
by GentlewoodFarms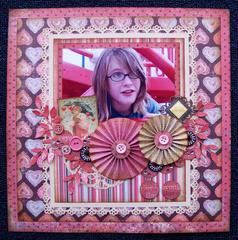 ***********************
January's Winner!
Chaos & Mayhem 2005
by SnowDog
***********************
PLAYER PROJECTS
1.
Cherish the Love
by Denayc
Antique Embellishment, Blush, Cherish
2.
Snow Angel
by Tracy F
Angels, Blush, Crinkled Paper
3.
Friends are Quiet Angels
by Beck_bear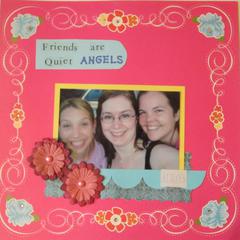 Angels, Brads, Cardinal
4.
Cass
by BoBecca77
Aqua, Brads, Cherish
5.
Happy memories
by Tinadn
Aqua, Brads, Cherish
6.
Kona
by Apa Kabar
Aqua, Brads, Cherish
7.
cherish the tradition
by Vincarash
Aqua, Brads, Cherish
8.
Mommy's Angel
by Pamela.tx
Angel, Brads, Cardinal