Hello everyone!!!
Welcome to the Stampin on your LO Challenge , I hope that you will join me this month. I tend to always stamp on my lo... embellishment, back ground paper etc... the opportunities are endless
Rules:
~ Your layout must include stamping - digi or ink
~ Any size of layout, digi or paper, one or 2-pages are allowed.
~ Only ONE layout, per person, can be submitted for judging.
~Please make sure your LO is on the first page. I'm worried I may miss some.
~ You MUST allow public embedding to be entered into the challenge.
**When posting your layout, it MUST link back to your gallery. If I can't click on it, I can't upload it.**
~You can only upload new layouts from the 1st of the month until the end of the month
~After the challenge has been closed, participants PM me the numbers of your favorite 3 layouts and the number of your layout. You don't need to vote for yourself, you will get a vote from me for PMing your choices. (remember to include the # of your LO in the PM please)
~I will post the public poll on the 3rd of the following month.
~Please leave comments on the layouts entered in the challenge. We all like to receive love.
LINKING LAYOUTS TO THE THREAD:
1. Go to the layout in your gallery.
2. Go to the Share section on the left-hand side and click on 'Share Anywhere'.
3. Click on 'IMG code' button.
4. Copy and paste the code which starts [url...] into the forum thread.
ALLOWING PUBLIC EMBEDDING:
1. Go to the layout in your gallery.
2. Click on 'Edit Image' tab at the top on the left side of the layout.
3. Scroll down to the bottom left side.
Have fun!!
Example: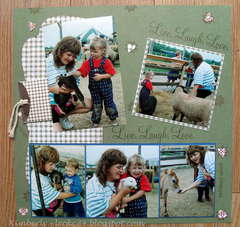 Live, Laugh, Love
By
Leokc34
February Winner:
Buddies for Life
By
AngieO
Submissions:
1.

Katie
By
Crafterrjb
2.
I adore you.
By
Islandscrapper1
3.
Happy Easter
By
Jazzescrapper
4.
Ghetto Chic
By
NMscrapper
5.
Ticket to Ride
By
LREA
6.
Ren Fest (May)
By
Charcats7
7.
9 of 52: Kick...run...goal!
By
Stopnstare07
8.
Celebrate~BOAF March Kit
By
DreaSlee
9.
just kickin it
By
Happy Go Lucky
10.
hugs n kisses
By
Leokc34
11.

Cowen Family- Easter 2012
By
AllAmy
13.
COOL, CALM, COLLECTED
By
Sasload4