Graphic 45 Secret Garden Shadow Box SS Swap
Spring will be here soon for some of us. For those that are under snowstorms this swap will be welcoming.
You have until Friday 3/15/13 to sign up.
We will be using the Secret Garden Graphic 45 paper collection and G45 Matchbox 8x8. We will create a shadow box for our secret sister to display anywhere she wishes. I hope to see a lot of creativity and originality on this project.
This swap will have a twist. After we have completed our creation and posted a picture in our gallery we will vote on favorite, of course this will be done before we mail it to our secret sister. The sister that does the creation that gets the most votes will receive a prize from me. Might be a store bought item or something made by me. I don't know yet what it will be.
This swap will end 2+ months from now
we will mail shadow box the week of

May 27, 2013
so that we all receive package around the same time.
We will vote on favorite on May 24 and 25 by pming me
. I will announce the winner on the 27nd of May so everyone will need to be done and picture will have to be posted in gallery if you want to have a chance of winning. And some lucky person will receive an extra package.
Sample: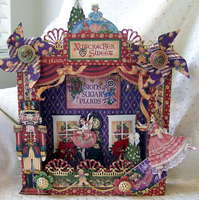 Graphic 45 Nutcracker Sweet Shadow Box for "Scraputante"
By
Dawna.s Place
Just a note****You can use any type of box just as long as it is around 8 inches or bigger and can be converted into a shadowbox.....
Rules:
1. This is a high- end swap so we expect great quality material. No cheap stickers or dollar store embellishments.
2.
You must use Graphic 45 Secret Garden paper and Shadowbox 8x8 or other box of the same size and material or better.
3. It must be on time, mailed the week of the May 27 .
4. If you want to participate in voting you must have picture in gallery before the 24th of May. Regardless a picture must be in gallery at the time of shipping.
5. Tracking confirmation must be added to shipping.
6. This will be a secret sister swap so secrecy is a must.
7. Below are products needed for swap, embellishments are decided by you
Participants
1.
Martica to Euroalien
Secret Garden Graphic 45 Shadow Box
By
Martica
2.
Linny to Star77

Altered Shadow Box (Martica Swap)
By
Linnny
3.
[color:red DKravec to Bobbij
Shadow Box
By
DKravec
4.
Bobbij to Kahlan
Secret Garden shadow Box
By
Bobbij
5.
Scrapwriter to Lorna Lee
Shadow Box with outer shell
By
Scrapwriter
6.
Scrapfortune13 to Smileneyz6
http://www.scrapbook.com/gallery/image/other/3 912999.ht...
7.
Euroalian to Stormydog

SECRET GARDEN SHADOWBOX - SWAP
By
Euroalien
8.
Kahlan to Linny
Altered shadowbox for Martica's swap
By
Kahlan
9.
CraftyTwin Family Emergency
10.
Lorna Lee to Scrapfortune13
Secret Garden Shadow Box (for Martica's Swap)
By
Lorna Lee
11.
StormyDog to Shabbypinkhouse
Shadowbox - SS Swap
By
Stormydog
12.
MrsAnnieS to Scrapwriter
Secret Garden shadowbox swap
By
MrsAnnieS
13.
Smileneyz6 to Drayia
Graphic 45 Secret Garden Shadow Box
By
Smileneyz6
14.
Pinkilious to Scrap Smart
Secret Garden Shadow Box swap with Martica
By
Pinkalicious
15.
ShabbyPinkHouse to Martica
Martica's SS Secret Garden Swap
By
Shabbypinkhouse
16.
Scrap Smart to MissAnnieS
Secret Garden Shadowbox
By
Scrap Smart
17.
Star77 to DKravec
shadow box
By
Star77
18.
Drayia to Pinkalicious
Secret Garden Shadow Box
By
Drayia
NO Flakers allowed.