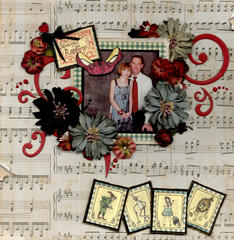 2013 Daddy/Daughter Dance
By
Momto3infinity
Happy Monday everyone,
I put this LO together last week, but hadn't yet put it into my 2013 Scrapbook. Every time I walked past the LO, I cringed at the placement of the ruby slippers, they weren't the right scale to have by DD2's head and it looked like she was getting stepped on :(. So, this afternoon I decided to remove them and put them down by the the lower right hand corner of the photo, between the two red flowers. Luv the LO much better now.
Anyhow, I am now left with a tiny pop dot mark in the photo. Does anyone know how to get rid of adhesive residue on a photo? I have Undue Remover, but am too afraid to use that on the picture itself. Any suggestions? Thanks Ladies. Keep a smile
M.