"ALL NEW ANYTHING GOES CHALLENGE"
April is coming! Time for sign ups!
Ok... I know some people have been intimated by this challenge but shut the front door----this challenge has been revised and updated!! KEEP READING.....
Not only will you meet new people here you'll get your motivation amp'd up you'll become a creative rock star to all your scrap cronies!! Seriously!!!
Your creativity will grow beyond your wildest dreams... ya and you will leapout of your comfort zone like their is no tomorrow!! Playing with us on the monthly challenge will not only be fun, it will be a place where you can talk about your woes and your toes...make close bonds with ladies who have the same and not so same ideals! And we all need more friends right? Say yes!!
Now before you run off, take some time and read thru' this post and ask me some questions, if you have any questions...or your overwhelmed beyond belief, ask me to help you catch your breath! We have made some BIG changes and we think it is a lot easier to follow than before!
SO pull up your BIG GIRL PANTIES and jump in with us die hard players and join the ranks of the obssesed!!
We will have daily challenges, weekly challenges, weekly photo challenges and a monthly challenge. All to keep you motivated and working hard to actually get those pics onto paper and into an album! We are willing to hold your hands thru the rough bumps. So ask...PLEASE!!!!!!
SIGN-UPS will be open until April 7th
If you are playing for points/prizes please send me $8.00 via USPS no later than April 7th. If you don't want to pay, you can always play motivational (but you won't be eligible for the prizes).
Please mail to:
Quay Sadler
2021 We. 2175 N.
Lehi, UT 84043
Alternately you can pay via PayPal by sending money to
[email protected] il.com
If you select this method, you will have to pay $8.55 to cover PayPal fees but that's not that bad considering a stamp would cost you $0.45
PRIZES: Gift certificates to sb.com!
**Prize Categories**
(prize amounts will be based upon the number of players)
1.
Most Points Overall: no matter what your goal was if you meet your goal and if you have the most points at the end of the month, then you are the winner in this category.
2.
Most Points 10 or Fewer Layouts: If you set your goal at 10 or fewer layouts and you meet your goal BUT do not exceed 10 layouts for the month then you are eligible for this category. If you complete more than 10 LOs then that moves you to other prize categories.

3.
Random Drawing of Everyone Who Meets Their Monthly Layout Goal: Meet your monthly layout goal and there will be a drawing done on random.org of everyone who met their goal but did not win in another category.
4.
Winner for completing the most dailies. If there is a tie, a random drawing will be done on random.org for the winner of this category.

***** You will only be eligible for prizes having met your monthly layout goal. Each paying player may only win in ONE category.*****
Layouts are counted towards your goal in the following manner:
*8x8 or above including 8.5x11, 12x12=1 layout (2 pagers count as 2 layouts)
*3 4x6 or 5x5=1 layout
*4 mini layouts (3x3, 4x4 etc.)= 1 layout
*Altered items and other projects can be counted as "layouts" based on the amount of work you put into them. If you aren't sure how many layouts a project is "worth", just ask!
**Cards do not count toward your layout goal, but you can count points for them.**
WHEN YOU SIGN UP, PLEASE POST YOUR LAYOUT GOAL FOR THE MONTH! YOU MAY CHANGE YOUR GOAL ANYTIME BEFORE SIGN-UPS CLOSE on the 7th of the month!
~~~
Only pages that are NEWLY completed and uploaded on or after April 30th count towards your total points and layouts.

~~~
This challenge ends on April 30, 2013 at 11:59 PM PST. All LOs, cards, pics, or other projects to be counted for points or towards your LO goal must be uploaded to your gallery AND linked to this thread with your point details.

~~~
All weekly challenge pics, LOs/projects, etc. AND POINT DETAILS must be posted to the thread by the deadline for weekly challenges which is Sunday 11:59 PM PST. (That is the Sunday of the week the challenges were posted for. Full weeks run from MONDAY (Day 1) to SUNDAY (Day 7).

~~~
Most daily challenges do NOT have to be complete the day the challenge is posted, unless the challenge says it is for that day only. However, you get +10 bonus points for completing a daily challenge the day it was posted.

~~~
To take the bonus +10 pts for completing a daily challenge the day it was posted you must have the daily complete, uploaded to your gallery, and posted to the thread WITH POINTS DETAILS by 11:59 PM PST that day.
~~~
When you post your cards, LOs, or altered projects please post all points details including any daily, weekly, or monthly challenges you are counting them for on this thread. Please try not to post projects then come back later to post the points details. If you do not post points details by a deadline for special points, you cannot take special points even if the project was completed in time. Special points are points such as points for a weekly challenge or the points for completing a daily challenge the same day it is posted, bonus points offered for another reason.
"Volunteer Help With Dailies"
Week: 1-7 Teresa
Week: 8-14 New Julie
Week: 15-21 Quay
Week: 22-28 Norma
Week: 29-30 Quay
Note on embedding:
ALLOWING PUBLIC EMBEDDING:
1. Go to the layout in your gallery.
2. Click on 'Edit Image' tab under the layout.
3. Scroll down to the bottom left side.
4. Check the box that says, 'Allow Public Embedding'.

LINKING LAYOUTS TO THE THREAD:
1. Go to the layout in your gallery.
2. Click on 'Link/Embed Image' link in the 'Share & Link' box to the left of the layout.
3. Click on 'IMG code' button.
4. Copy and paste the code which starts [url...]
into the forum thread.
PLAYERS
paid=
Quay (Quay)
46/25
Julie (Julie101)
16/60
Tesa (TesaB)
3/5
Kena (Bubblegirl)
0/20
Lisa (craftingmomma07)
2/30
New Sue (suegrnbay)
15/15
Norma (njr007)
7/8
Jennifer (kdsmommy)
0/20
MOTIVATIONAL
Paula 0/
Lyn 16/6
Teresa (Teresakay)7/10
"MARCH WINNERS" are as follows:!!

1. Norma "Most Overall Points"
2. None "Most Points 10 or Fewer Layouts"
3. Julie (senora_x) "Random Drawing of Everyone Who Meets Their Monthly Layout Goal"
APRIL 2013 POINTS LIST
BONUS POINTS!!!!
take +400 bonus points if you pay by MARCH 1st,
take +300 points if you pay by MARCH 5th,
take +200 points if you pay by MARCH 7th, the deadline!
5 POINT ITEMS
- PER letter/number used in title only (stamped, sticker, chipboard, rub-on, die cut, etc.)
- PER photo corner, button, staple, brad, paper clip, jewel, pearl, or metal item.
- PER sticker used (rub on, flat or 3D, NOT alphas in title)
- PER hand stitch
- PER comment you post in a gallery/blog/my place
- PER new photo taken by you, posted to your sb.com gallery, and linked to this thread
- for updating your siggy-points & layouts info IMMEDIATELY after posting points
- for cleaning up your scrap area after you completed the posted layout
10 POINTS PER EACH ITEM USED ON A PROJECT
(example: if you use three different pattern papers take 30 points)
- PER cardstock/pattern paper used
- PER type/kind of ribbon, trim, twine, fiber or embroidery floss/thread used
- PER stamped image or word on your project
- PER color of glitter mist, stickles, paint, or ink used
- PER hand-cut embellie (that you cut out w/ scissors)
- PER any kind of die-cut shape (includes chipboard die-cut)
- PER flower (the whole flower not counting each layer)
- PER type of distressing (inking, sanding, crumpling paper, etc.)
- PER card or swap item made (full points for first, 20 pts for each identical one)
- PER punch used
- PER each color of washi tape
- PER item used that is over 1 years old! (Includes the picture(s) if PRINTED over 1 years, not just taken over 1 years ago!) USE UP THOSE OLD SUPPLIES!!!
50 POINTS FOR USING THESE ITEMS/TECHNIQUES ON A PROJECT
(only take 50 points once for each item you use, no matter how many times you use it)
- for using chipboard/grungeboard/car dboard (not cardstock)
- for using a quote or song lyrics
- for having journaling on your LO ~new~
- for creating a LO for another challenge on sb.com or on another blog/website (MUST tell what challenge it is for AND if it is not an sb.com challenge you MUST post the website link to the challenge!)
50 POINT ITEMS:
- PER 8x8 or larger (8.5x11, 12x12) or 8x8 or smaller layout's (MUST have a link in this forum)
- PER HANDMADE (by YOU, not machine made) flower on your project
- handmade frame
- for doodling on your page
- for making your LO a shape that is not a square or a rectangle (ex. heart or circle) OR a LO that has a border that is not a straight edge (ex. scalloped border or rick rack border or border and corner punches ie: Martha Stewart punches)
- for using memorabilia besides pictures
- PER wet or dry embossed image
~new~
- for using one or more of the following themes: Easter/Spring/Rain/Vacati on
- for having hidden pics or journaling—to take these points, you must include a close up of the hidden items in your gallery and link to this thread (journaling that is just written on the back of the LO does not count as hidden)
50 POINT ITEMS:
- for using your OWN design that is NOT based on someone else design or sketch to create an altered project or layout (take ONLY +25 pts if it is a card or swap item you designed yourself)
- PER layout (not card or altered project) with at least 60% negative space
PICTURE POINTS ON YOUR LAYOUTS/PROJECTS/CARDS
10 POINTS:
- PER picture (4 pics = 40 pts.)
- PER person or animal in each pic
- PER picture cut in the shape of a circle
- PER picture over 2 years old OR +20 pts PER pic over 5 years old
- PER black & white vintage photo
- PER picture taken during March 2013 or later
- for rounding your corners on your picture
20 POINTS:
- PER picture that YOU are in
- PER picture with NO people or animals in it
- PER photo larger than 4x6 OR 3x3 (2x3, 2x2, etc.) or smaller
- for project/page w/ 3+ pics
- for having the title, an embellishment, or journaling on or overlapping the picture
JOURNALING POINTS
- 5 point PER word of journaling (not pre-printed embellies)
- 50 points for using handwritten journaling on your page (or 75 pts for 50+ words or 100 points for 100+ words)

ADDITIONAL POINTS
100 POINTS:
- for doing a THOROUGH cleaning of your scrap area when it is messy! YOU MUST POST A BEFORE AND AFTER pic to take the points!
- machine sewing,
- for altered item/home decor item created,
- for scraplifting
- new technique for you, that you used, (must explain what technique you used)
~new~
~Daily Challenges~
1.
Set up your siggy and monthly goal for April! And Do a layout or card with a background made out of stamps if you don't have stamps make a background with die cuts. +200

2.
Today is National Peanut and Jelly day Do a layout card, or project with brown on it +150
For some Xtra points add some ribbon,twine,lace +100
3.
Just read this post on a blog about ways to use your square punch today use a punch be creative on your page layout or card..if you don't have a punch make something handmade also share what you did on your layout with the group. +300
Here is the link to the post I read .There are some neat ideas here
http://scrapbookandcardst
odaymag.typepad.com/scrapbook_...

4.
Do a layout, card or project with scrappy stuff from your stash use all items except your background page that are at least a year old or older. Use that stuff you are holding for that special picture :)+175
Xtra points recycle something nonscrapbook and use on your layout +125
5.
Scrap a page,card or project with a poem or song lyrics on it +200
Xtra points Use any shade of purple on your project +50
6.
Use washi tape on your card layout or project if you don't have washi tape you can use paper strips. +150
Xtra points Use a new technique on your project +150
7.
Do a layout card or project with some kind of banner on it. +200
8.
Do over's I, sure everyone has a page they would love to redo make sure you post they layout you redoing 300 Points
Extra Points take 10 Points per items that you reused on the new layout
9.
DAILY 9th Take 500 points for having the daily posted so late in the day!!

10.
So Punches I want to see at least 3 different punches 300 Points
Take extra 100 Points if you use then in a different way to just punching a strip on paper
11.
Pinks and reds I want card or layout using mostly tho to colours you can add other colour but it must dominate pinks and reds 200 Points
12.
Do a layout without use of pattern paper 300 Points
13.
use white cardstock as your base for a layout 200 Points
14.
Today is walk for paws day to raise money for the RSPCA so I wanna see a layout of your pet or pets 200 Points
15.
for 200 points make a layout with at least 4 photos. get an additional 100 per additional photo up to 4 more.....maximum points 600.
16.
Show me some sparkle on your page for 150 points, 100 for a card! Use glitter, glimmer mist, stickles....anything that sparkles!
17.
Summer will be here before we know it. Share a favorite summer recipe with us for 100 points. Scrap your recipe for an additional 100 points
18.
Today is National Hive Five Day. Use 5 of ANYTHING for 250 points (5 flowers, 5 buttons, 5 ribbon, etc)
19.
Use a photo of a person or animal, but with an unusual crop – for example, only feet, eyes or a hand. No more than half of a body (not a portrait) or half of a face. LOs only, for 300 points.
20.
I have LOTS of stamps and rarely use them. So let's use our stamps on a card or layout-
Use 1 stamped image for 50 points
Use 2 stamped images for 100 points
Use 3 stamped images for 150 points
21.
Change your avatar for 100 points-And I would like to see your face!
22.
Create a LO that has soft soothing colors... 150pts Make your photo about something relaxing to you for another 200pts
23.
Make you background paper out of 3 different pieces of paper. Tape them together to make one paper. 125pts
24.
make a LO that has 24 different items on it, such as cs/pp, buttons, ribbon etc etc etc...200pts
25.
Scrap a LO using nothing but different shades of beige colors. Just to stretch your imagination a bit. See how fabulous your Lo will turn out with very plain colors...jazz it up ladies!! 300pts
26.
Copy this LO as exactly as it is. With a small twist. Use different colors and different embellies. But follow the same pattern exactly! 300pts.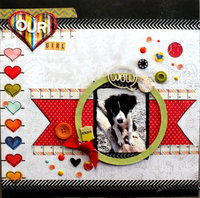 Challenge LO
By
Quay
27.
It seems fitting since I am having fun on my scrappy weekend you all should have fun too! So 1000pts today becuz" I am having fun!!!
28. It's sunny and warm here today! So use summer colors and embellies. 150pts.
Add a summer tree for another 150pts.
29.Use a lot of embellies on your LO. 150pts
30.4/30 Take time out to redo a LO you found yourself hurrying on. Make it over and show both LO's in your post. 400pts
~Weekly Challenges~
APRIL 1-7 2013
Scrap a page about something you do in the Spring ...Include at least 2 pic and use some brads.+400
APRIL 8-14 2013
What is on your greatest challenge? Scrap about one of your greatest current challenges, or a challenge from your past. 500 Points

APRIL 15-21 2013
I am a slow scrapper most of the time. I mean a layout can sit on my desk for a week before I finally finish it. So for this weeks challenge we are doing a timed layout. So gather your papers, photos, embellies and other supplies. Set your timer for 1 hour. If you finish your layout before the timer goes off you get 500 points!
Take 100 points off for each additional 15 minutes you take to finish your project.
Don't worry, even if it takes you 2 plus hours to finish your layout you will still get 100 points for trying!
Weekly: April 22-28 2013
Make a card a day, use the theme "Just to Say Hello" , "Just a note", "Hello" Simple titles! SO that's 7 cards for a whopping 500pts
~Photos:~ April 1-7
+50 each
Skyline
Smells good
Something unusual
Something RED
~Photos:~ April 8-14
Favourite Drink 100 Points
Favourite Food 100 Points
Favourite Item of clothes 100 Points
~Photos~ April 15-21
Let's Get ready for Spring! 50 points each
Flowers
Tree with new growth
Green grass (not brown like winter grass)
Sunshine Day
Your favorite Spring Thing
Photos:April 22-28 Things that are relaxing
a bed 100pts
a recliner or rocker 100pts
a cup of tea or coffee
a bubble bath (without a naked person) hehe
~Monthly Challenge~
Scrapbooking with Vintage Photos
One of those things that even the most savvy of us put off when we're getting things done off the scrapbook to do list is putting together scrapbook projects using those vintage photos.
Sometimes we're nervous that our style won't mesh with the aura of the photo. Sometimes we're simply nervous because we're handling an old photo and it's not as easy to create a duplicate from the pre-digital era.
The use of a vintage photo becomes easier when you focus on an event/holiday and connecting a vintage photo to a timeless or CLASSIC concept like iconic characters can be a fantastic basis for a vintage layout/project.Using "vintage" look type or journaling methods to carry the aura of the vintage photo throughout your layout. Echoing the "gray" throughout the layout where black would normally rule the day.
Make your vintage layout look cohesive by echoing any bright colors in the vintage photo in the layout and mix with a lot of neutral prints and papers, stitching, journaling by hand, etc.Increase the vintage look of the entire page as a reflection of your vintage photo by using quotes that align with your chosen subject.
Distress inks and patterns are also a great choice when trying to work with vintage photos.Things that always seem to compliment vintage photos: distress paints, bronzed edges, flowers in classic colors, text, typewriter print, vintage look embellishments and actual vintage ephemera.
Scrapping with vintage photos tip – Don't ignore the colors in the photo even if they are from the development process. Pull the reddish tint from the photo into the layout with a multitude of shades of pink/red.
Also accentuated the vintage look of the page with vintage type printing, handwritten journaling, and a presentation of an idea that is just as relevant 50 years ago as it is today…missing someone…every day of the week. These are just a few ideas how to scrap a vintage photo. Look up some of your own ideas and get started on this now.
Scrap 12 vintage photo's into 12x12 LO's. And keeping the vintage look obvious through out the LO. If you have done all 12 LO's for this Monthly Challenge you can add
5000 points
to your list of points and also you can add regular points as well.