Hey Neighbors!
Limor Webber is hosting her first show on Live with Prima and she has created a stunning project to share with our viewers!
Tune in to see the free class here:
http://www.ustream.tv/channel/primaflower
And here are the class details---
"La Primavera" Configuration Box with Limor Webber
Thursday, May 30th at 6:30pm PT/ 9:30pm ET
6/1-1:30am GMT/ 11:30am Sydney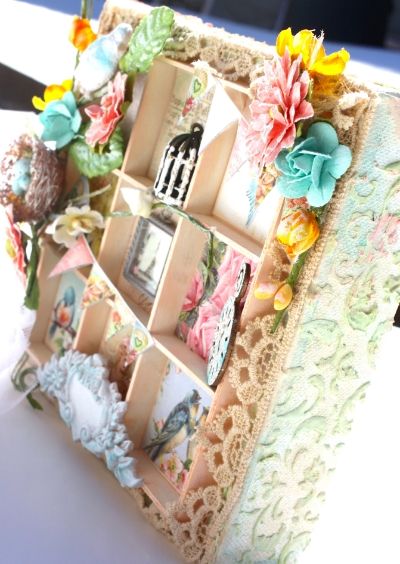 Limor has created a stunning mixed media project using Prima packaging from our Wood Icon collection! See how she transforms it into a shabby chic home décor piece made to hold all kinds of trinkets and treasures using canvas, Prima's Divine collection and more!
Prima Products:
950415-Divine-Canzone
950453-Divine-Chanson
563530-Divine Vintage Trinkets
930035-Vintage trinkets-Bird Cage
890773-Ingvild Bolme Shabby Chic Treasures
891466-Ingvild Bolme Shabby Chic Treasures
565299-Divine Vines
565282-Divine-Mini Rose Stems
564483-Divine Flower Vine-Yellow
552879-Cradle-Robin
455505-Prima Lace
891343-Ingvild Bolme Chalk Edger-Turquoise Stone
891756-Ingvild Bolme Chalk Edger-Peach
564278-6x6 Flourish Stencil
563905-Wood Icons
Extra Materials:
Lindy's Stamp Gang Sprays: Cocklebells, Coral and Sea Mint
Ranger Distress Paint-Antique Linen and Broken China
Stampendous Shabby Chic Emboss Enamel