Hey Neighbors!
Jamie Dougherty is on Live with Prima tonight, creating gorgeous jewelry from the Mechanicals collection by Finnabair. Great show for holiday gift making ideas...
See the class here:
http://www.ustream.tv/channel/primaflower
Industrial Chic Jewelry with Jamie Dougherty
Thursday, September 12th at 6:30pm PT/ 9:30pm ET
9/16-1:30am GMT/ 11:30am Sydney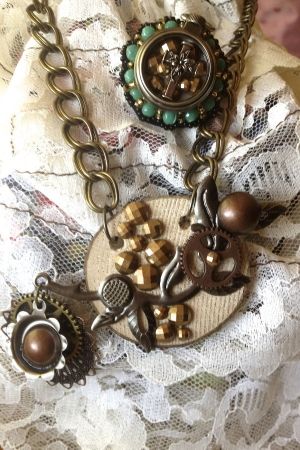 Would you like to create a few of your own trendy, industrial chic jewelry pieces? Join Jamie in this textural filled class and see how YOU can design your next statement piece. She will provide a complete list of all materials needed and show you step by step how easy it is to create custom wearable art. We will create a memento ring, wood grain necklace, bracelet, and if we have time a broach.
Prima Products:
569327 Wood embellishments
961053 Mechanicals
561130 Rosarian beaded flowers
961084 mechanicals clocks
961046 mechanicals leaves
551506 (2-3 packs) SIIC
891602 Junkyard findings gears
891657 Junkyard Findings
961091 Mechanicals bottle caps
961114 Mechanicals Tassel etc
960377 Mechanicals Jump rings
Extra Materials:
Ring base
liquid adhesive
drill or punch
necklace chain
small pliers
Gold paint
Glossy Accents and/or resin (recommend ICE Resins)
Craft mat
Small metal trinkets you would like to add