I know there are a lot of challenges going on, but I would like to introduce another one. Hopefully someone will get some inspiration from it and play along!
Have you ever been in the middle of the layout and you think of the "perfect embellie" needed to complete it, but:
1) You don't have time to go shopping
or
2)You don't have time to wait for it to be delivered from an online store
or
3) It doesn't exist!
I have had moments like this and when that happens I go to "Google Images" and search for that perfect finishing touch!
Sometimes I actually use what I find on the internet as my main picture when scrapping a topic I have no pictures for!
That is what this challenge is all about:
Use the internet to help create the perfect layout!
Here are some examples:
As an embellishment –
Soft Kitty
By
Doreena
As the main picture –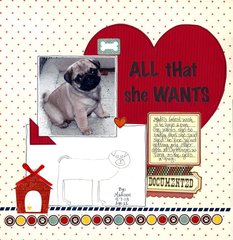 All That She Wants
By
Doreena
Links to more examples:
http://www.scrapbook.com/galleries/48155/view/ 3723893/-...
http://www.scrapbook.com/galleries/48155/view/ 2832903/-...
Rules:
There are only 2 rules-
1) 1 item on your layout/project must have been printed from the internet
2) Have fun!
No sign-ups required.
Just drop off a layout by October 31st.
Also, no prizes…this is just for fun!
I hope you will join me!