http://www.scrapbook.com/gallery/?type=challen ge&ch...
"join" but you are NOT obligated!
Welcome! This challenge is open to EVERYONE all month! Thanks for joining in!
You may enter up to
3 BOYS ONLY LOs
(any size) (including pets and babies) here in the forum. **OPTIONAL TWIST for extra entry for RAK is the following sketch: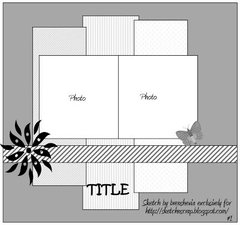 Sketch-NOV-B&G Bonus
By
Marcilb
CHALLENGE GUIDELINES:
*.....click on "join" but you are NOT obligated!
*.....Must be created in the challenge month (digi or paper)
*.....allow public embedding (message me if you're not sure how)
*.....You MAY COMBINE with other challenges
*.....Spread the love & support each others' efforts
if/when you have time
!
*I will use Random.org, post winner and send a RAK* (I just prefer that everyone just do these beautiful LO's for the fun, so no voting. All of the names are typed into Random.org, up to 3 entries + extra entry each time you use the sketch, and voila-a winner!)