Card Challenge
Welcome to the November Card Challenge!
Stepping in for Karen this month....she will be back to host in December. Hope you will come be inspired and play with us!!
There are 8 categories: color, theme, product, technique, sketch, favorites, lift and photo inspiration.
Cards must be new as of October 31st.
Deadline is November 29th, @8pm CST.
Make as many cards as you want and the challenge is open to everyone. No signing up, just post them as you finish them and I'll add them to the first page as we go along. And don't forget the most important rule, HAVE FUN!!
Please check Allow Public Embedding for your cards when you upload them!
Just in case anyone needs it, here are the directions on how to embed your cards to the thread..
*Click on the picture you want to link in your gallery
*On the left side of the page, under "Share", click on the "Link/Embed Image"
*Click the bubble button beside IMG code
*Click inside the box with the code in it
*Click the middle bubble for the size of the photo
*Click CTRL & C to copy
*Come back to the thread and press CTRL & V to post the link and click add post and that's it!
**** PLEASE READ! ****
When adding your card to the Scrapbook.com Gallery, please specify this challenge in the description. Example: if you made a card for color, write: "November card challenge - color".
* * * * * RAK* * * * *
This month's RAK will be chosen from the category of Technique. So make sure you get the Technique category done! The winner will be picked on Random.org.
* * * * * CATEGORIES * * * * *
Color:
Color Challenge -Nov Card Challenge
By
Scrap-Time
Green, Orange, Brown
Theme:
Sentiment – The focus of the card should be the sentiment
Product:
Metal. Anything that is made out of metal….brads, charms, etc…
Technique:
Card Folds – Pick one of these and try a different fold on your card.
Z –Fold card:
http://beccysplace.blogspot.com/2011/06/technique-cla ss...
S – Fold Card:
http://beccysplace.blogspot.com.au/2012/10/technique-cl...
Easel Card:
http://www.splitcoaststampers.com/resources/tutorials/e ...
Joy Fold Card:
http://www.splitcoaststampers.com/resources/tutorials/j ...
Sketch:
The Deconstructed Sketch #120 (DS120)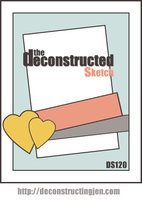 Card Sketch Nov Card Challenge
By
Scrap-Time
Favorites:
Recreate a card or sketch you've saved in your favorites either on this site, a blog, or Pinterest. Just make sure to link up the card in the description.
Lift:
With Love - Rainbow Set
By
XAlysonex
Photo Inspiration:
Photo Inspiration Nov Card Challenge
By
Scrap-Time