Hello! Today on Scrap Your Scraps blog, it's Cathy's turn to share ideas for using Party Supplies On a Layout !
"We celebrated my daughters second birthday in June, and after we were packing up I got to looking at all the crepe paper that we have. I have a plethora of crepe paper, and it was kind of sad that I only use it for parties, since you get sooooo much on roll! I decided to use it up here to make a cute backdrop for a party layout! (...)"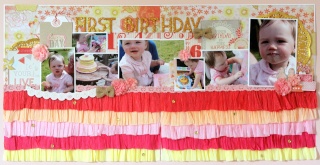 (... see blog here
http://scrapyourscraps.blogspot.fr/2014/07/everybody-lo...
for the full post and more pictures!)