Hey Neighbors!
Tonight, Limor Webber with be creating a new art journal entry using the brand NEW Finnabair Art Mediums. If you want to see what these new products are all about-then join us!
See the free class here:
http://bit.ly/1mdYYKQ
..................................................
"Relax" Art Journal Page with Limor Webber
Thursday, August 28th at 6:30pm PT/ 9:30pm ET
8/29-11:30am Sydney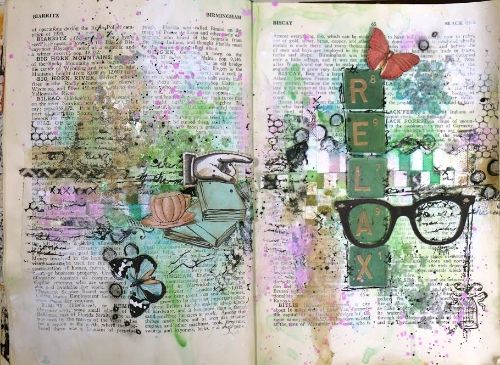 We often get stressed out when we want to start an art journal page and we don't know where to begin. Come create an art journal page from start to finish and learn to let it go as you watch it come to life.
Prima Products:
961442 - Art Basics Heavy Gesso
961398 - Art Basics 3D Matte Gel
961466 - Art Basics Clear Gesso
961749 - Art Ingredients Mica Flakes Frosted
961763 - Art Ingredients Mica Flakes Granite
Ingvild Bolme Chalk Permanent Chalk inks - Blossom Tree, Teal Damask and Rock Moss
575762 - Epiphany cling Stamp
575830 - Epiphany clear Stamp
846770 - Forever Green Collection "Spread Your Wings"
575984 - Pin Wheel Stencil Round 7"
575878 - Coffee Break Ephemera
960636 - Resist Canvas
960810 - Clear Stamp
Extra Materials:
Black Stamper's Big Brush Pen - Faber Castell
Liquitex Quinacridone Magenta fluid acrylic
Daler Rowney White Fluid Acrylic Ink
Fan Brush
Water brush
Beacon 3 in 1
Iced Chai Gelato
Stabilo All Charcoal Pencil
Black Journaling Pen