Welcome Everyone to the 2017 Glorious Holiday Tag Swap!!
We will make new friends and Celebrate the Holidays in style by creating a special gift.
PLEASE READ ALL DIRECTIONS CAREFULLY.
Here's how it works:
1.Let me know you're IN and USA or International.
2. Create a beautiful holiday or winter tag: 6 x 4 or LARGER.
Use a lot of embellishments to build texture and dimension.
Ideas for tags can include: Vintage Christmas, Traditional Christmas (red, green and gold), Whimsical Christmas, Winter(blues, whites and silvers). There are so MANY choices. You will decide on your theme AFTER receiving your PARTNER. I know some of you enjoy getting an early start. PLEASE wait.
3. Partners will be issued November 25th. Contact your partner by PM; say hello in the thread as well.
4. Mail your tag by December 15th, no later PLEASE.
5. Include a small gift with your tag.
6. Use a padded envelope; cost will be around $3.50-$5.00.
7.AFTER your partner has received her tag, please POST HERE for all to enjoy.
8. Join in the discussion here on the thread. We'd love to hear about your holiday joy and plans.
9. Contact me with any questions. I am here for you, and I want this to be a wonderful experience for you.
Happy Holidays!!
https://youtu.be/KHsgTBXWF7c
https://youtu.be/h7WUBF2kNIs
https://youtu.be/6Xg1GTpjHro
Partners:
Donna/Mary
Donna/Rebecca
Laura/Terry (Terry's Scrapbook)
Carri/Cool Cathe
Amie/Suzanne(sroseberry)
Karin/Paula
Darlene(star77)/Crissy
Robin/Jess E
Elizabeth/Pam (FritillaryB)
Kathy/Marci
Yvonne/Kelly (KVRLVN).
Caroline/CJ
Please try and contact your partner within 48 hours. Mail your tag by 12/15 please.
Enjoy!!
Angels for Mary(Tag Swap)
By
Bonprof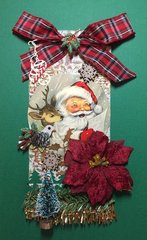 Merry Christmas Rebecca (tag swap)
By
Bonprof
" Glorious Holiday Tag Swap ~ 2017 ~ hosted by Donna A (bonprof)
By
Abbygirl
Glorious Christmas Tag Swap
By
Nunya
"Winter" tag for Terry
By
LauralsAttic
Glorious Holiday Tag Swap (for Pam)
By
Eapipkin
Winter Tag Swap!
By
Euroalien
Sugared Christmas Tag (for Cathy)
By
Caletts
Glorious Holiday Tag swap: tag for Elizabeth
By
FritillaryB
Christmas Tag for Caroline (bishsticks)!!
By
MrsCDJ
Holiday Tag Swap ( For Jess )
By
RobandTim2
Holiday Tag Swap 2017
By
Luv46kdz
Tag
By
Star77
Snowman Christmas Tag
By
KVRLVN
White Christmas
By
Bishsticks
Victorian boot for December tag swap, for Robin
By
Jess E
Christmas/Winter Tag for Kathy
By
MarciLB
Christmas Tag for Paula
By
Mosbarger