He's making a list and checking it twice trying to find out who's NAUGTHY NOT NICE...
Get to scrapping this holiday's memories...This challenge is for those non traditional Christmas pages. Think of The Nightmare Before Christmas for some inspiration. Some other ideas can lean toward non traditional colors such as orange, black, purple, etc. Got any pictures of your kids crying on Santa's lap or the kids/dogs getting into the presents under the tree before Christmas? Get creative and have fun and use all those new scrap goodies from Santa
Bonus Round Rules:
1. No signups necessary.
2. Must be a new layout dated from now (December 25th) to January 31, 2018 at 11:59pm PST.
3. Digital layouts are welcome.
4. You can combine this with other challenges.
5. Only one entry per person is allowed. Previous players may enter a new layout for this bonus round.
6. Please allow public embedding so I can share your layout on the front page.
7. Spread the love on each other's pages.
8. The winner will be chosen by random.org and will receive a RAK (random act of kindness) from me.
Here are a couple of examples:
Scraps of Darkness & Sketches: Creatively Yours ~ Sandy Claws
By
C Mom Go
Scraps of Darkness & Punky Scraps ~ X-mas Morning
By
C Mom Go
Uh Oh!
By
C Mom Go
First Round Winners:

1.
"This Sucks Mom!"
By
Ppilgrim
2.
Gag Gift
By
Doreena
3.
2017 December - Oh Deer
By
Ladybing Tammy
BONUS ROUND ENTERIES:
1.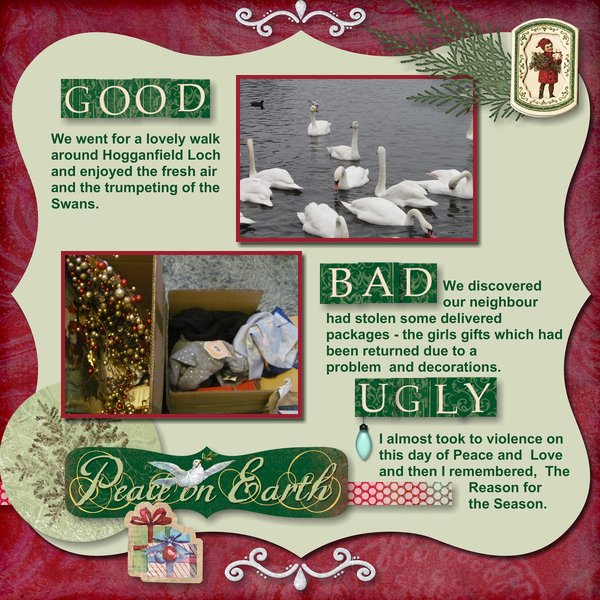 2017 - Christmas Day - The Good, The Bad, The Ugly
By
Ladybing Tammy
2.
You better not cry...
By
MarciLB
3.
Merry Christmas Hooman
By
Doreena