I am leaving this here quickly... because once again my youngest isn't letting me get this done... just wanted it posted before Midnight for the daily points... I used Nutella Brown!
It would have posted before Midnight ... had my computer not restarted! I will be back to edit this post and my signature with points!
I had to cover some kids faces... they aren't my kids I don't feel right posting them on the internet without permission!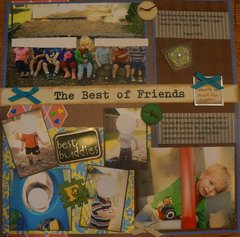 Best of Friends
By
Deanna Schuler
UPDATED to include point breakdown:
PROJECT SIZE POINTS ~
10 for 1 12x12 (144 and up square inches)
1 POINT ITEMS ~
2 for 2 buttons
5 for 5 individual flat stickers (do not double count letters used in title)
1 for 1 number of scraps used (from your leftover scraps stash, not from this project)
3 POINT ITEMS ~
3 for 1 decorative metal embellishments (small charms, large paper clips, metal tags, etc.)
6 for 2 dimensional or layered stickers (chipboard, layered transparent, etc. Do not double count as letters in title)
5 POINT ITEMS ~
15 for 3 patterned papers used (including scraps)
5 for 1 card stocks used (including scraps)
5 for 1 song lyrics
10 for 2 types of ribbon or trim
5 for 1 types of floss or thread
5 for 1 dimensional die-cut shapes (laser cuts, chipboard pieces, Dusty Attic, BoBunny, etc.)
5 for 1 swap items
sent to you
that you include on your project (Ugly Papers can be counted as a single swap)
10 for 2 number of SB.com (with specs) challenges your project is entered into (non specific challenges excluded - volume, hoarders, budget, vlb )
10 POINT ITEMS ~
10 for 1 number of transparencies, acrylic shapes, overlays, or other clear items used on your project
5 POINT TECHNIQUES ~
1 for 5 using speciality paper (glittered, foam, flocked, felt, fabric, foil, velvet, burlap,canvas, enameled, cardboard, vinyl, etc.)
1 for 5 using metal anywhere on your project
10 POINT TECHNIQUES ~
1 for 10 fussy cutting
1 for 10 using items from your stash that are OVER 1 year old
1 for 10 using a HANDWRITTEN journaling block or strips
PICTURE ITEM POINTS ~
(5 POINTS)
30 for 6 number of photos (4 pics = 20 pts.)
40 for 8 number of unique persons or animals in all photos combined (4 photos of the same person = 5 points)
(10 POINTS)
10 for 1 number of photos larger than 4x6
(10 POINTS)
1 for 10 single page LO with 3+ photos
1 for 10 WRITING ON or having an EMBELLISHMENT ON or OVERLAPPING the picture
JOURNALING POINTS ~
(2 POINTS)
10 for 5 Handwritten journaled words up to 100
(25 POINTS)
1 for 25 25 points for computer generating your journaling
1 for 25 25 points for journaling in your gallery description
ADDITIONAL POINTS ~
(2 POINTS)
20 for 10 each comment you post in a gallery here on SB.com.
4 for 2 each post in the Anything Goes Forum since your last project post. (Do not include project posts!)
(10 points)
for 10 creating and exchanging a swap item. (Swap group link required. Ugly Papers may count as ONE swap)
AGC SPECIFIC POINTS ~
25 for 1 number of AGC Daily Challenges (# list which ones here!)
10 for ~ Bonus Points ~
for AGC Weekly Challenge # (enter 200 points)
0 for number of ACG Project 52 Layouts
for AGC Monthly Challenge (enter 1000)
433 ~ TOTAL POINTS THIS POST
1027 ~ CURRENT TOTAL
1460 ~ UPDATED TOTAL POINTS