Hello! This challenge is open to EVERYONE ALL MONTH! Click the "join" button (although you are not obligated)....Click the "forum discussion" tab below (right) and THE CHALLENGE DETAILS and add your layout THERE TOO! (PM if you need assistance).
View Challenge Here:
August Artistic Challenge
CHALLENGE DETAILS:
*..... NO SIGNUPS necessary but you can click above and "join" but you are NOT obligated!
*.....3 LO's PER PERSON (this is a scrapbook page challenge only)
*..... digi LOs ARE ALLOWED
*..... allow public embedding (message me if you're not sure how) then I can put your project on page 1 here!
*.....You MAY COMBINE with other challenges
*..... NO checking in required but spread the love & support each others' efforts if/when you have time!
ARTISTIC CHALLENGE THIS MONTH: FRAMES

I personally love frames, but usually as a layering piece. So this challenge may either be just right for you, or a headache. Either way, come join us and have fun!!!
Inspiration:
I grabbed a bunch of frames and layered them throughout the piece.
Keep Your Eyes On The Skies
By
Vivian Lake
This one I made last year, using a die cut frame as my focus.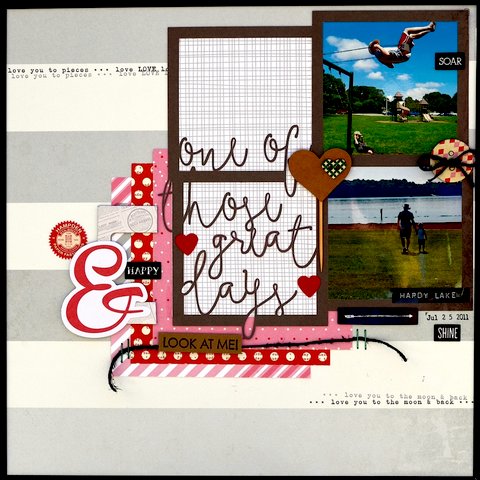 One of those great days
By
Vivian Lake