WELCOME! This challenge is open to everyone all month! Sorry I was MIA in June, but I was really too busy to keep up with any challenges. Hope you'll join me this month!!
CHALLENGE DETAILS:
*..... NO SIGNUPS necessary
*.....UP TO 3 LO'S PER PERSON (this is a scrapbook page challenge only)
*..... digi LOs ARE ALLOWED
*..... allow public embedding so I can post on main page
*.....You MAY COMBINE with other challenges
*..... NO checking in required but spread the love & support each others' efforts if/when you have time!
THE CHALLENGE:
USE TRIANGLES, HEXAGONS, CIRCLES, STARS, ETC AS YOUR BACKGROUND IN THE LAYOUT.
AVOID USING SQUARES OR RECTANGLES. STRETCH THOSE CREATIVE MUSCLES!!!!
PHOTOS AND EMBELLISHMENTS CAN BE ANYTHING YOU WANT.
To do PUBLIC EMBEDDING:
1. Go to the layout in your gallery.
2. Click on 'Edit Image' tab at the top on the left side of the layout.
3. Scroll down to the bottom left side.
4. Check the box that says, 'Allow Public Embedding'.
To link LO's:
1. Go to the layout in your gallery.
2. Click on the 'link/embed' words.
3. Click on 'IMG code' button.
4. Copy and paste the code which starts [url...] into the forum thread.
For Your Inspiration: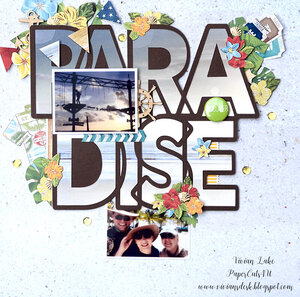 PARADISE
By
Vivian Lake