Details: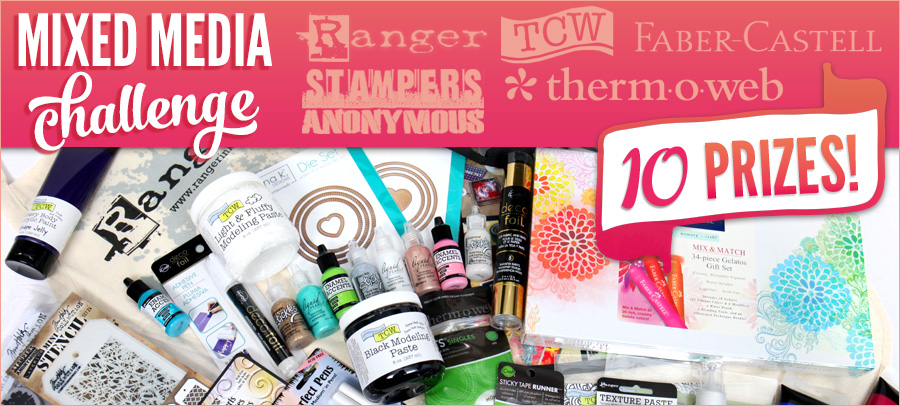 Letís get inky on National Scrapbook Day! Discover the mixed media artist within and intrigue us with your layout or mixed media project.
We will select 10 winners who, we believe, showcase the most original mixed media project while also meeting the challenge requirements. All projects and skill levels will be considered.
Projects which show great originality could showcase a unique use of mixed media products (paint, stencils, 3D embellishments, etc.), artistic arrangement, or illustrate a story by artistically altering everyday objects. Be prepared to challenge yourself and dazzle us with your most original mixed media project!
Our goal at Scrapbook.com is to inspire beautiful, meaningful, handmade self-expression. National Scrapbook Day is our way of celebrating, encouraging and inspiring you to take time to create something beautiful and enjoy the creative process. Thank you for joining us.
Rules:
1. Join the challenge.
2. Create a new, never-before-published layout or project that showcases unique mixed media techniques while also meeting the challenge requirements for your chance to win!
3. Upload your entry to the Scrapbook.com Gallery.
4. Link AT LEAST 3 products used in your layout. You are not limited to products you have purchased at Scrapbook.com. You may link embellishments, washi tape, adhesives, paper trimmers, ink, paint, stencils, punches, die cutting machines, glue, and cardstock too!
5. Be sure to check the box at the bottom of the upload page to add your project to the
NSD Mixed Media Challenge.
Please note: There is no need to upload your image to the forum post; winners will only be chosen from the Challenge Uploads.
6. There is no limit to the amount of times you can enter this challenge, but you are only eligible to win one prize per challenge.
7. Winners will be announced on the Scrapbook.com Blog no later than May 31, 2017. You must redeem your prize within 60 days from the time the winners are announced.