This downloadable catalog is absolutely 100% free. We hope you enjoy it. In order to receive this free E-Book, just add to your cart, checkout (you will not be asked to provide any payment information) and then follow the download instructions below:
Step 1:
Order "Designing with E-Cuts Printables" from Scrapbook.com.
Step 2:
Click on the download button after checkout, unzip the Win Zip file and your E-Book is INSTANTLY delivered to your computer.
Step 3:
Save " Designing with E-Cuts Printables" to your hard drive and/or print it out.
Step 4:
Let the creativity and inspiration flow!
If you have any questions or problems you can e-mail us at [email protected]
You must use the latest version of Win Zip to unzip the file. If you do not have Win Zip on your computer, click here to download a free evaluation version of Win Zip.

You must use the latest version of Adobe Acrobat Reader to view or print this file once purchased.
If you do not have Adobe Acrobat on your computer, click here to download a free copy of Adobe Acrobat.
From the author Jill Davis (Founder of Scrapbook.com):
"I don't have much time to scrapbook and when I do, it's usually at night when scrapbook stores are closed. Printable E-Cuts have become my solution. I can't tell you how many times I've used these kits. For years, every time I used an E-Cut and finished a layout without a trip to the store I would think, "I wish I could show my Scrapbook.com Neighbors how much fun I just had". One night, after finishing a layout faster than usual (it took me less than twenty minutes from start to finish) I wrote an email to the CEO of Scrapbook.com and told him we needed a book to show the world how to use E-Cuts. I told him I was available to write it and excited to work on it. The next morning I got a call and he asked me to get started. The more I wrote and the more sample layouts I designed, the more excited I got. There was just so much to share and to show!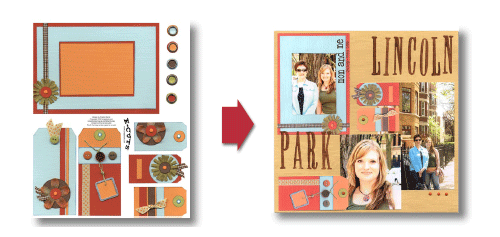 I've always felt like E-Cuts are one of the most innovative and important scrapbooking inventions ever. They are perfect for scrapbookers who are looking to save money, to save time, or both. You can actually download and print hand-crafted, professional designs to your personal computer, and create professional and stylistic layouts in a fraction of the time it would take you to do it from scratch on your own. Once you buy an E-Cut, you can print it as many times as you want and use it over and over.
One interesting section of the book shows how five different scrapbookers used the same E-Cut to create five
very
different layouts. I've also included
27 never-before released Floorplans
in this book so you can recreate each sample layout. My favorite part of the book is where I show and explain (with a step by step tutorial) how you can
easily
use custom fonts to do your own journaling and titling on your E-Cuts. With this
newly developed secret technique
you'll be able to create personalized scrapbook elements with your E-Cuts and print them as many times as you want.
Here's an example:

Here's an example of one of my layouts with personalized printed elements:



1 Floorplan + 1 Black and White E-Cut (printed on purple cardstock) = A Complete Layout

E-Cuts have changed the way I scrapbook and have helped tens of thousands of scrapbookers around the world save time, money and energy. This book will help you take your scrapbooking to the next level and help you turn your E-Cuts into beautiful complete layouts.
I am absolutely confident that you'll love the book. But if you're just not satisfied for any reason at all, just let us know within 60 days and we'll refund 100% of your money. You've got my word and guarantee."
- Jill Davis
(Founder Scrapbook.com)

Designing with E-Cuts Printables is a primer on how to use E-Cuts printables for beautiful and fast layouts. Designing with E-Cuts Printables contains:
Designing with E-Cuts Question and Answer Section
30 New and Inspiring Layouts
Exclusive Floorplans and E-Cut links to help you create beautiful layouts quicker
Instructions, Ideas, and Inspiration
Special Tutorial on how to use your computer (w/ Microsoft Word) to create beatiful personalized printable elements from your E-Cuts!


Includes:
68 Pages
1 Printable Front Cover for a 1" binder
1 Printable spine cover for a 1" binder