Photo Challenge: Underwater Camera Pics

Article Courtesy Scrapjazz.com: by Michelle Francis
Have you ever wanted to be able to take pictures from below the water's surface, instead of always being above it? I'm usually nervous that I'll ruin my camera by getting it too close to the water, or worse, what if it falls in? Then I've really ruined my camera. I've looked into different types of ways to take pictures underwater and here is what I've found.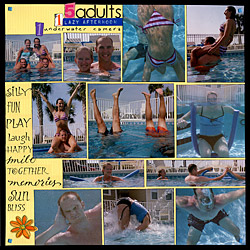 Disposable Underwater Cameras:
I've used the disposable underwater cameras in the past and if these were the only option available, I would continue to use them.

Pros
Fairly cheap – they can start as low as $6
No worries about ruining your digital camera
Can be used outside of the water as well
Takes pictures up to 17 feet (check individual cameras for depths)
Cons:
Images sometimes turn out blurry or grainy – especially when there's not enough light
Limited as to the amount of pictures you can take
Waterproof Cases for Your Digital Camera:
I purchased a case from DiCAPac after reading online reviews. Make sure to follow instructions to check your new waterproof bag before using with your camera.

Pros
Small enough to pack
Much cheaper than a separate camera
Use your own digital camera
Take clear photos from underwater
Can take as many pictures as your camera will hold
Guaranteed up to 16 feet
Also works to keep out sand and snow
Cons
Occasionally when zoomed in, corners can be missed and will show up as dark area (notice the black in the upper left corner).Hard to see the preview screen
Takes a couple minutes to get the camera in and out of the bag
Waterproof Camera:
I asked Christy Reid (Scrapjazz.com's Florida Scrapper) about her waterproof camera. She has the Olympus Stylus 1030SW.
Pros:
Can be used as regular camera
Records video so you can use it on water rides
Waterproof up to 33 feet
Takes bright, clear pictures
Can take as many pictures as your camera will hold
Cons:
Next time you are going to be getting wet, whether playing at the water park or diving, try taking some pictures underwater. There are so many wonderful images you can capture and you'll soon find reasons to take pictures not only on land, but at sea.