Product Review: Imaginisce Splash Dance

Article Courtesy Scrapjazz.com: by Michelle Francis
With summer over, it's time we start putting our pictures from our water escapades onto pages. Imaginisce has an adorable line called Splash Dance that is perfect for that day at the beach, or even in your backyard.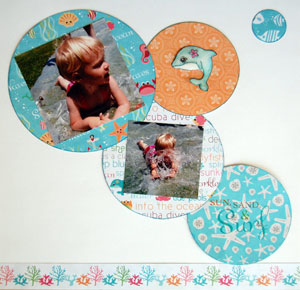 Supplies:
The first thing I noticed about this line is the cute sea animals. After I got over how charming the little sea life was, I noticed every piece of paper had a little bit of gloss on it. There's one side that doesn't have any, and then the other side has gloss on parts of it. I like how the gloss adds a little bit of a water feel to the paper.
The embellishments that are available to match the line feature the sea animals and also seashells, starfish, and some sayings. I especially loved the acrylic stamps. The stamps were easy to use and are just the right size for an accent. The 3-D stickers are pretty sturdy and don't add a lot of bulk to the page while they are adding depth.
I love rub-ons and was excited to try out these rub-ons. I noticed as I was opening them how delicate the designs were. Because of the delicacy of the designs, it did take a lot to get the images to rub onto my page. You cannot see when the rub-on has transferred onto the page, so it's a bit of a guessing game. That being said, I love how the small swirls and curls add to the design.
Take a look at this fun line and I think you'll fall for the charming creatures of the Splash Dance line. They will call for you to take them home, just as they did to me.