May 2011 Sketch Challenge

Article Courtesy Scrapjazz.com: by Georgina Hefferman
Have you ever sat at your craft desk, staring at a blank piece of cardstock and wondering how on earth you are going to make a scrapbook page out of it? I can often sit for hours playing around with pieces of paper, organising crafty stuff, flicking through previous layouts and looking through the Scrapjazz Gallery just searching for a little spark of inspiration to get me going. It's a wonderful thing to do... when you have the time! I lead a busy life, however, as many of us scrapbookers do – and as such I sometimes just need a sketch to kickstart me in the right direction.
Sketches are wonderful things. You can let your mind wander and draw something on a piece of paper that you can then translate to a finished scrapbook page. What's more, you can use the same sketch again and again and each time your layout will look completely different!
I decided to share a sketch I created with a few of my scrapbooking friends and this is what they created:
Stacy Manfredi created this brilliant layout about the canning she completed last fall. The base for her layout was Bazzil Dotted Swiss Cardstock and it really added some dimension. She stuck pretty true to the sketch but she made the background patterned paper more square. She added little photo corners, and I love the scalloped border that she embellished with brads and doodles. She added some bright pink rickrack ribbon which I think really brings out the colors in the paper and the gorgeous color of that canning! What I especially love about this layout is the attention to detail on her title. Mixed fonts are really in right now and Stacy used Thickers chipboard letters with American Craft stickers. She then hand-sewed all around the edge of the white stickers with embroidery thread to really make the layout pop! Finally, Stacy added flowers as her embellishments, although rather than place them next to each other she stacked them for even more dimension!
Next to try the sketch was Chelsey Watts:
Chelsey created a layout about her visit to the Pantheon in Paris. The first thing that strikes me when I look at this layout is its vintage feel. She has chosen to work with muted fall colors which really complement her photographs, and the added splash of green and orange really draw your eye to the center of the layout. I love the shape she has created in the Creative Memories paper she used, instead of the sharp rectangle in my sketch. In fact, all of the corners of Chelsey's page are rounded, including those on her photographs; this really gives the page a softer more romantic feeling, when combined with the harsh lines of the building architecture in her photos. Chelsey has embellished her page with flowers in varying sizes, a little tag and some BasicGrey pearls. For her title she has used Thickers Lullaby foam lettering and the script font is a beautiful addition to her layout.
Helen Salthouse really jazzed her layout up with a variety of embellishments. There is so much detail here; there is a lot to look at. The first thing that jumps out is the way her photos are bold, modern and bright and she complements this with a more muted vintage feel background. I love the use of color in this layout. Browns and greens are interspersed with yellows, reds and pinks. Helen has used a patterned piece of background paper that is in itself a work of art. (you can find a similar piece here) and then she has sewn around the edge of it to give it the border shown in my sketch. She has added a little zigzag stitch for interest and a button to finish the look. I love how she picked the redness of her son's shirt out for the color of the thread. Helen has only used two photographs on her layout and in place of the third she has placed her subtitle. She has adhered this with mini brads that match those along the scalloped border across her page. Helen has finished her page with a dash of ribbon for some added flair and a title made up of a mixed font.
Finally, I decided I should have a go at my sketch too: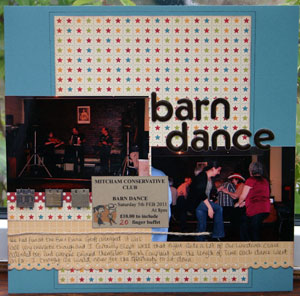 For my layout I started with a very plain but bright blue background, I wanted to bring out some of the blues in the photos. I used patterned paper with a modern western feel to complement the theme of my page and added a hint of red paper to make my embellishments pop and to match the photos. Around the edge of my background paper, I drew a border with a black pen. Like Helen, I chose to use only two photographs and I put a piece of ephemera (my ticket for the event) in the place of the third. I added some twine and three star embellishments to finish the look. My title was made up of Thickers lettering too – a common thing across all of our layouts!