Dated Design: Important Dates Wall Art Project

Article Courtesy Scrapjazz.com: by Andrea Steed

I've been working on a gallery of framed photos and art for a wall in my kitchen and really wanted it to include meaningful pieces, not just any old photo or picture. In my quest to make it meaningful, I decided to create a subway-art-style piece using important dates in our family, specifically each of our birthdays and our wedding anniversary.
To create this piece, I started with an idea sketch in Photoshop. I knew I wanted it to be an 8" x 10" piece, so I created a canvas in that size. Then I played around with font styles and font sizes until I ended up with this design, using the font "Modern No. 20" in 125pt:
Now, let me stop here for a second. If you're into digital designs, this is the perfect place to stop and say: Skip the rest of these by-hand steps and create a printable! Design it, print it yourself, or send it into your favorite photo developer and you've created your very own piece of modern art. Nice, huh?
If you're still with me, you must be a hands-on kind of girl. I decided instead of making a printable to give my Silhouette SD a little workout and had each number cut separately from black cardstock.
Then I cut the center date (our anniversary) from white cardstock and finally the flourish designs from kraft cardstock.
I chose a muted teal patterned paper background and laid out the design: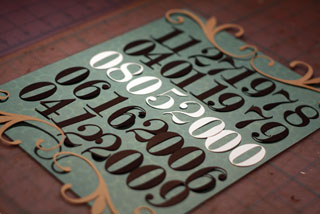 Using a ruler and pencil, I drew very faint guidelines to find the center of the paper (both vertically and horizontally) and began adding the numbers, beginning with the "08052000" row and working out from there.
Tip: I used cardstock and a Xyron sticker maker, but another option would be to use Silhouette adhesive vinyl and transfer paper to make this whole process a breeze.
With all the elements glued down, I added a tiny red heart eyelet to the center of the anniversary date to finish it off.
Now it hangs in my kitchen gallery, and even my husband (who is a tough sell when it comes to crafty things) remarked that it was "a really cool design." Perhaps I should have saved it for Father's Day!