Polly's Kitschy Scrap & Craft Room

Article Courtesy Scrapjazz.com: by Polly McMillan
I've moved twice since I began scrapbooking in 1996. I've gone from scrapbooking out of a storage tote that had to be unpacked each time, to setting up shop on my dining room table. At last I'm happily settled in my very own space and I couldn't be happier. I've surrounded myself with my kitschy, inspirational collectibles and organizational tools.
My ribbon supply has grown leaps and bounds so when I saw a ribbon dress form used to organize ribbon, I did an online search and had one delivered immediately. I can now see my whole ribbon addiction…..oops, I mean supply, at one glance. It's fun to snip off pieces as I'm working on projects. It's definitely a timesaver.
For teeny embellishments, like brads and beads, the perfect solution was a couple of spice racks. I can eliminate a lot of packaging by combining all of those tiny embellishments into the clear jars. This way of organizing has saved me a lot of much needed space in my drawers and allowed me to see what I have.
I'm a lover of buttons on my projects, so they needed to be organized into a container where I could see what I had on hand. I found a large square glass jar which I love. It has a nice-sized silver lid and I like that too as I use it as a pedestal to place a project or collectible.
I began using silk flowers in crafting over ten years ago. I have not changed my way of organizing those as my method has worked well for me. I have a large rectangular-shaped basket with two separate sections inside. I've accumulated quite a supply of flowers and this basket holds them perfectly. I love the bright splash of color it adds to the room and I just love the ease of plucking a flower off as needed. I store my 12" x 12" paper in the drawers beneath the flower basket. There's five total and they store a lot of product.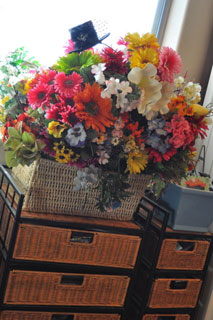 One of my favorite projects is mini albums. I recently found a bathroom towel rack at a yard sale which I've repurposed for my albums. I spray painted it black and now it's placed prominently behind my desk on the wall. I used metal rings to hang the albums. There are two shelves which hold projects and collectibles. I love rearranging my space often and these shelves make it fun!
Rickrack holds a special place in my heart. I love the fun colors and it just makes me smile. I organize all of my loose pieces in a large clear vase. The rickrack still on cards fits perfectly into a bright orange holder I found at a yard sale.
Sometimes I find an item at a yard sale, like this vintage collectible rack, and instead of using it for what it was intended, I use it to store supplies. Like I mentioned earlier, I rearrange my space often and this wall rack is changed out regularly. Sometimes it holds a special vignette of the season, sometimes random collectibles and sometimes scrapbooking supplies.
I have two bookcases in my space which hold lots of supplies and lots of keepsakes as well. When I find fun items at yard sales, my mind is always thinking of a way I might use it to store supplies. I love vintage-looking needlepoint and this fun bill holder houses some rub-ons and journal pads. It's super kitschy which is why I love it!
I'm so inspired in my scrap room. Everywhere I look is something that makes me smile and makes me happy. I've always got the bug to create something; if I don't have a lot of time, it might be a tag or card. If I have lots of time to create, I will make a layout, mini album or home décor project. My supplies are super easy to locate now that I have fine-tuned my scrap area and it's a pleasure to spend time in my little crafty oasis!