Preserve Your Summer Memories, Forever

The relaxation and fun of your summer vacation might be behind you, or it could still be on the horizon. Whatever the case may be, we want to help you document your special memories in a format that keeps them safe for a lifetime and beyond. Scrapbook.com is committed to helping individuals and families preserve their memories. Before we show you ways to incorporate simple preservation strategies for your vacation, consider these statistics:
The Photo Marketing Association reports that in the past 25 years in the United States, 15 billion rolls of film have been developed. It is estimated that 80% of those photos remain in their original processing envelopes in drawers and boxes. (That's 12 billion photos sitting in boxes and drawers in this country!)
Are some of those photos yours or will they become yours? They don't have to. Follow these easy-to-implement ideas into your vacation plans and you'll have everything you need to create a simple vacation scrapbook or photo album when you get home.
Before vacation
Pack your camera in a padded storage bag with the following:
Identification information (to increase your chances of finding it if lost)
Batterycharger and extra memory cards for digital camera
Extra batteries and rolls of film for traditional camera
Notebook and pencil to record the pictures you take and your thoughts and memories along the way
Zip-loc™ bags for memorabilia which might include:
Ticket stubs
Take-out menus from favorite restaurants
Parking passes
Sand from the beach
Pressed flowers and leaves
Trinkets/souvenirs
Other significant objects that will remind you of favorite moments
Note: Some historical sites prohibit visitors from removing rocks and other items from the premises, be sure to abide by the laws of the country you are visiting.
While on vacation
Consider the following hints and tips which make travel and future photo preservation easy and enjoyable:
Camera Bag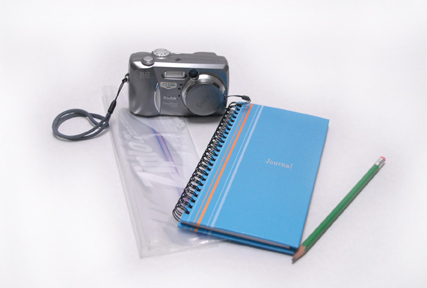 Take your camera bag everywhere you go and take pictures. If you use a digital camera you can share the photos with family members along the way or when you return home. Some shots to consider are:
You - close-up and mid-range shots
You with those you're traveling with – close-up and mid-range shots
Sites– Long-range photos of buildings, landscapes or locations. Long-range photos are more interesting if they include a person or people you know in them. If you come across a breath-taking view and you don't have a panoramic setting on your camera do the following:
Stand in one place. Turn to your left and note the level your camera. Take a picture. Now moving your upper torso only, move the camera (at the same level) to where you left off with your first picture (actually back up just a little bit and capture some the scenery again). Take another picture. Keep doing this sequence until you get to the right-hand site of the scene. When you develop your photos you'll be able to splice them together and see the beautiful view in a gorgeous panorama.
Food you eat, get a close up of a plate of food you enjoyed and a picture of you eating the food


Interesting animals or people
Interesting objects, consider very close-up shots of things you won't see again
Places you stay
Sunsets/sunrises
Journaling
Make notes of your thoughts and feelings about each day in your notebook. Remember to date each entry and include a list of photos you took. Include the following with your thoughts and feelings:
Who – Who you traveled with that day, who you met, who you learned about
What – What you did, saw, learned, smelled, touched and heard
Where – Where you went
When – What is the date and time of day?
How - How did you travel to each destination? Were travel conditions good?
Postcards
Purchase postcards at each memorable destination. Write in details about the day and your experiences, then, mail it to yourself. When you get home you'll have pictures, stamps and journaled memories coming to you for weeks. These postcards can be placed a photo album or you can scrapbook them with the rest of your photos. The photos on postcards are professional and a bargain for travelers and Scrapbookers. Try to find postcards that don't have words around or over the photos. Layout by SaraCrance.
When you get home
If you used a digital camera, download your photos from your memory card to your computer and date each group of photos. If you used a traditional camera have your photos processed and write significant information (date, names of people in the photo and location) on the back of each photo when you get them back from the lab. Use an acid-free marker, not a ballpoint pen which can emboss your writing from the back to the front of the photo and could allow ink to migrate from photo to photo when stacked.
Purchase a photo album or a scrapbook. Scrapbook.com has a fantastic selection. Place your photos in chronological groups and slide them into page protectors of your new scrapbook or in the sleeves of your photo album. Add your collected memorabilia to each applicable page protector.
Now you can enjoy your memories and scrapbook them when you make the time to do so. Here are some completed album ideas:
Photo Album
Purchase a photo album and simple slide your photos into the sleeves when you get home. Photo album by MaryAnn Perry.
Do-it-all-yourself scrapbook (takes a few weeks to complete)
Purchase an album, cardstock (a coordinating pack of colors will help you differentiate and highlight each destination), page protectors, stickers, pens. Album by SaraCrance.
Scrapbook kit 12"x 12" (takes about a day to complete)
Purchase this album kit a few weeks before you leave and assemble it so you'll have an idea of what photos to take to fit on each page. The paper in this kit is all pre-cut so all you have to do is glue it and the embellishments into place using the easy-to-follow instructions. Simply add your photos and journaling when you get home. Album by MaryAnn Perry
Scrapbook-in-a-bag kit 6"x 6" (takes an evening to complete)
Like the album kit above, you can purchase this scrapbook-in-a-bag before you go. The paper in this kit is also pre-cut so all you have to do is glue it and the embellishments into place using the easy-to-follow instructions. So easy to construct and affordable you can make an album for everyone you traveled with. Album by MaryAnn Perry
Mini accordion album 4"x 4" (takes a few hours to complete)
This album is ideal to capture the highlights of a vacation in a quick and easy format. Add your own coordinating papers, ribbon, stickers and photos and you have a beautiful treasure to display on a shelf or end table. This album would also make a great gift for those you traveled with. Album by MaryAnn Perry