Article courtesy of Scrapjazz.com by Jaime Warren

My youngest daughter isn't very fond of the camera. Well, she isn't fond of it if she's in front of it. When she's behind it, pretending to snap away, she loves it! I had to document this and these gorgeous Crate Papers were perfect for it.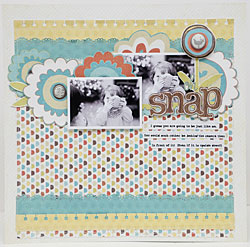 Supplies:
Instructions:
The overall design of this layout is really simple. I cut the patterned paper to fit nicely in the center of the background sheet. I then punched the edges of two strips of paper and layered them one on top of the other.


I love the way machine stitching adds a little touch of texture. I stitched along the whole edge of the patterned paper and the pieces that I punched.


I very rarely ever have a set plan in mind when I sit down to create a layout and this one was no exception. I played around until I felt the photos were in the "right" spot and then started adding in embellishments (flowers that I cut out from the patterned paper). I literally just move them around until they feel right! I added the title directly below the photos and then added the journaling directly under the title. I also stitched the top edge of the journaling strips.


I added a few more hand-cut flowers to even out the top.


I punched two more strips and added them to the bottom to even out the entire page. I stitched those as well.


I added brads to two of the flowers to give it more texture.


I can't wait to see what you create using these steps and this layout as a guide!
Shop the Scrapbook.com Superstore