Article Courtesy Scrapjazz.com: by Rachel Myerson
"I hope you still feel small when you stand beside the ocean."
I love spending time by the ocean, whether it is watching the waves crash, walking in the sand, or jumping waves with the kids. I love everything about it. The ocean is both peaceful and exciting at the same time. As a mom, there is nothing better than taking my family for a day at the beach. When I get back, I look for new and different beach embellishments so I can creatively scrap our day at the beach.
Make Your Own Sand
My absolute favorite product for making my own beach embellishments is Mudd Puddles Sand Paste. This sand-textured paste can be used in many creative ways to make beach-themed embellishments. Try using it on chipboard to create a beach feel and then top it off with a die-cut for a fun embellishment as I did for this fishy embellishment
Spread it along the bottom of a page or album cover to create your own beach as I did on this summer album.
Making Waves
Many trips to the beach are all about water: splashing, swimming, riding, or just watching it. Consider embellishing your layout in a way that looks like water. One way to create waves is to layer torn strips of blue paper, either solid or patterned.
Another way is to punch the waves using a border punch. Stamp a few splashes for an extra watery look.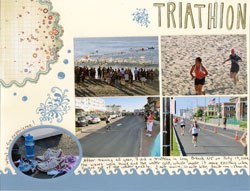 Find Your Own Embellishment
Next time your children start searching for seashells, join the search, but look for embellishments. Nothing is better for a scrapbook page about finding shells than an actual shell from that beach.
You can use a whole shell or a nice, colorful piece. Just remember to think about the height the shell is adding to your layout. If you don't like bulky layouts, then choose a relatively flat shell. Make sure you wash your shells carefully before you use them; I like to let them soak overnight. I attach shells with Glue Dots. Of course, if you are uncomfortable with real sea shells on your layouts, you can always use sea shell brads.
Beach-themed Embellishments
Looking for a more traditional beach embellishment? There are plenty of interesting ones to choose from. Here are a few ideas:
Whether you are collecting shells in the winter, sunbathing on a peaceful beach on a remote tropical island, or enjoying a family picnic by the boardwalk, I am sure you will want to scrap your visit to the beach. I hope this article gave you some new embellishment ideas to include on your beach layouts.