Travel Scrapbooking: Japan

---
Article Courtesy Scrapjazz.com: by Patricia Folchert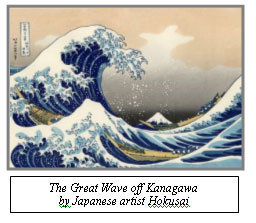 Today we venture to the distant island of Japan, a destination unlike any other on earth. Often referred to as "The Land of the Rising Sun," this island off the Pacific coast of Asia is overflowing with culture and tradition. Travel to this country is full of possibilities and for those of us who have been fortunate enough to experience it firsthand, it is unforgettable to be sure. Of course most important to our readers is the sheer scrapability of the area and the opportunities for great photographs. So let's take a closer look at what Japan is known for; you won't be disappointed.
Highlights of Japan
Cherry Blossoms: They are in full bloom at different times in different regions but prime viewing ranges from the end of March to mid-April.
Mt. Fuji: This is the famous mountain you see in many photos of Japan. Located in the region of Hakone, it is part of the Fuji-Hakone-Izu National Park, less than 100 kilometers from Tokyo. This area is famous for hot springs, outdoor activities, and natural beauty. Hakone is one of the most popular destinations among Japanese and international tourists seeking refuge from the busy city of Tokyo.
Tea Ceremony: Think philosophy meets a formal tea party and that only begins to describe this wonderful "way of tea" tradition that was influenced by Zen as a completely harmonious ceremonial experience.
Origami: Paper art at its finest, learn about colorful paper hand-folded into amazing creations- something we can certainly appreciate, right?
Karaoke: One of our favorite exports, there are establishments built just for this musical craze with private party rooms available. Lots of fun photo opportunities exist during these impromptu performances.
Shinto Shrines: There are an estimated 100,000 shrines in the country so chances of getting a good shot of these local cultural treasures are optimal.
Japanese Gardens: Luckily they take their gardens very seriously in Japan. You'll find incredibly beautiful gardens perfectly manicured and complete with water features, bridges and koi. There are 29 of these public sites that are protected as national "Special Places of Beauty." Look them up; they are full of photographic opportunities.
Local Cuisine: Fresh seafood, sushi and green tea are just a few of the local staples, all of which are fantastic and colorful, perfectly presented for shooting.
Geishas: Female entertainers of music and dance are presented with stunning traditional costumes. Check out a local show and get some great photos.
Hello Kitty: Ok, maybe this isn't a national treasure in most people's books, but I for one am a huge fan and loved seeing Sanrio characters everywhere. In fact I returned from my trip fully stocked with Hello Kitty stickers and stationery to use on pages. 100 Yen store (just like our dollar stores), need I say more?
Kimonos: Gorgeous designs woven into silk garments traditionally worn in ceremonies and weddings, you will most likely catch a glimpse of these at some point during your trip.
Sumo Wrestling: Don't miss the national sport and one that is only available in limited locations around the world.
Manga/Anime: Japanese animation is a worldwide sensation. Comic books, videos, trading cards, you name it, they have it. These images could certainly make some creative scrap pages.
Baseball: Check out a game here; it is the most popular spectator sport in the country.
Auto Racing: Another great option for local entertainment, pick a nice day and head for the track. Be sure to adjust your camera for those high-speed photos.
Temples: These peaceful settings are perfect for picture taking, often surrounded by serene gardens, and are always sensational when photographed at sunrise or sunset.
Beaches: Probably not what comes to mind first, but it is an island, so there are plenty of chances to get barefoot in the sand and enjoy the sunshine, seashells and sailboats. Also check out the lunch or dinner cruises available, which are perfect opportunities for stunning waterscape shots.
As far as inspiration for layouts based on Japanese culture, you have probably already thought of a few just going through the list. I would recommend looking to the local art, such as the kimonos or the Japanese gardens, for design elements. Such stunning displays of color and detail make for great interpretation onto scrapbook pages. That is how I created the three layouts below.

Layout: Golden Dragons This layout features red and gold, and some traditional Asian artwork. Some extra paper piercing and gold embroidery floss enhances the design and adds to the detail-oriented approach.

Materials used: DCWV Paper Pad - Far East; DCWV Chipboard Alpha/White; Stampin' Up Ink - Creamy Caramel & Chocolate Chip; KI Memories - Frosty Lace Cardstock Tulips/Java; Kraft Cardstock; DMC lt. gold embroidery floss; gold eyelets; Tombow Adhesive Tape Runner;
Layout: Japanese Treasures
Having fun in Japan is the focus of this single-page layout with five photos. This is a nature-based theme with green foliage and red flowers. My favorite feature is the clear pocket in the right corner holding Japanese coins.


Materials Used: NRN Designs/China Birds paper; plastic beads; red silk flowers; twine; handmade red paper; green & red cardstock; clear plastic pocket; white vellum paper; Tombow Adhesive Tape Runner;
Layout: Far East Stripes
This double layout uses a simple vertical stripe concept to create harmony. It features a light blue floral print with tan and charcoal gray accents. There is even some real origami-printed paper mixed in with some authentic Japanese 3-D stickers.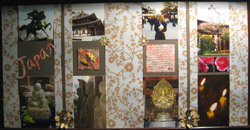 Materials Used: Chatterbox/floral paper; white vellum; charcoal gray & tan cardstock; clear plastic pocket; printed origami paper; Tombow Adhesive Tape Runner; ; 3D pop-up dots
There are some fantastic Asian-themed products available through our sister website Scrapbook.com. This is a sample list of a few of my favorites:
Reminisce Passports Stickers - Japan
"Domo arigato" for joining me today on our journey to Japan. Now it's your turn; please share your Asian-themed layouts by uploading them to our website here at Scrapjazz.com