Scrap Room Tour: Perfectly Purple

Article Courtesy Scrapjazz.com: by Georgina Hefferman
Oh, how I love my craft room. It is my area of tranquillity, my safe haven, my creative spot. I am so grateful for it! It certainly isn't the biggest craft room out there and it doesn't look like something from a glossy magazine but it's all mine and I love spending time in there.
The room itself is 82" x 69" inches! It once was the spare bedroom in our house but I commandeered it back in 1997 when I changed it into a darkroom for my photography hobby. I have since gone digital and the need for a darkroom was no longer there, but I kept the room as a craft room instead and things have kind of grown from there!
My favorite color has always been purple since I was a little girl and as such I painted the room dark purple when it was a darkroom. The dark purple helped absorb the light beautifully. I haven't actually felt the need to redecorate it since! It suits me fine as it is and I think it actually works better as a craft space now.
You will see from the photos that it is a little bit of a tight squeeze in my room. I have packed it out with stash and used every available space possible. My craft desk takes up one entire wall. It is made from an old kitchen worktop that I salvaged and I have bolted it with a metal rod to the wall and the floor. It is a great sturdy surface to work on and so easy to clean. It's so sturdy I even stand on it to reach the top shelf of my bookshelf! I have a variety of craft cutting mats on the table. The big green one is for my "everyday" use and the purple one is magnetic so it's great for cutting straight lines or attaching small pieces. I use the blue one for stamping on.
My TV sits in the left corner at an angle, covering the wall socket and slightly in front of that is my iPod docking station. I love listening to music when I scrap and have a whole selection of that too. To help with natural daylight when I am in my room of an evening, I have a white table lamp which unfolds and can be angled to make the room brighter. It's a pretty useful gadget to have.
A child's flowerpot set is perfect for all my pens and pencils and tools that I use frequently. I salvaged an old mini DVD shelf which sits on top of my desk and stores my Stickles and Copic markers as well as adhesive I am using and usually some ink.
At the end of the table is a custom-built bookcase. My stepdad made it to measure for me. I painted it in purple to match the walls and store all kinds of things on there. The top shelf stores my binders of clear stamps. I slide the stamps into clear plastic folders such as baseball card holders and store them inside binders for ease of use. I love flicking through them to decide what image to use.
I also store my Cricut cartridges on the shelves too. On one of the shelves I store things in clear boxes. I got these clear boxes from IKEA and I love them. It's so great being able to see what is inside each one. I store my adhesive runners, Cuttlebug folders, embossing powders, brads, inkpads, bling and buttons.
Attached to the wall next to my bookcase is this great really useful storage unit. It consists of 48 separate boxes. I use them to store all my small embellishments, inks and spare letters. I have labelled the front of each box with my Dymo labeller. At the top, the containers have spare letters in them and my inks are all towards the bottom. Underneath I have a clear box storage unit which is on wheels and hosts my scraps of paper and chipboard embellishments. On top of this I have resting another box of scrap papers, my sewing machine, a Xyron cutter and a Xyron runner.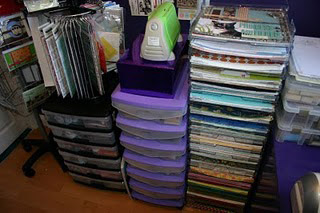 Over the back of my door is a metal shoe rack. I use this to store my punches. Then, above the door is a mini shelf which holds four little glass jars. This was purchased from IKEA too. In the glass jars I have paperclips of different sizes and colors.
That big twirly thing in front of the door is what I use to store my handmade cards. I keep that there but as it is on wheels I can move it out if I need to. I used it for my first craft fair last year.
On my other large wall, I have strung a retractable washing line across the room. I use this to hang all the lovely handmade cards friends send me. I sometimes use it to hang products on too , like a homemade version of the Clip It Up. There are a couple of hooks under the washing line on which I hang bags of ribbon.
Underneath this on the wall is a corkboard which I use to pin inspiration to and under this I have added some hooks to hang smaller packets of embellishments.
I also have a couple of salvaged plastic drawers on wheels that contain my ribbon and embellishments. I have a Clip It Up on top of one of the drawer sets that holds all my lettering and such.
There is a paper rack next to these drawers. These are actually individual trays which slot into each other. I have no rhyme or reason to this paper stack. I need to organise it much better. My cardstock is generally towards the bottom with the paper in between and my recent layouts on the top. I like storing paper this way as it doesn't ever get damaged or torn and it's easy to see.
I also have a huge, deep box which my stepfather made for me and I painted purple. In here are all our old family photo albums. I then use the top of the box to host my Cricut as it gives it plenty of space to cut without me having to move anything.
Above my window is a bucket set from IKEA. I use it to store my paintbrushes and acrylic paints as well as various tools I use.
Underneath my desk are some more handmade units. I have a set of three drawers where I store my adhesives, pens, cardstock for card making and gift wrap. Another unit consists of a couple of shelves which I store more tools on, an old diaper carrier that my Mum gave me (which stores threads and things to alter), a box of old cards and a box of flowers. The third unit is a cupboard which I have stored more photo albums and scrapbook albums.
As you can see it is quite cramped in there and there is only room for one person but I love having everything within reach of my seat. If you would like to see more of my craft room, check out my blog. I have a weekly post every Wednesday which looks in more detail at my various storage methods!
I hope this has given you some inspiration. It doesn't matter what size space you have or what it looks like – all that matters is that your scrap space should be made just for you!