Article Courtesy Scrapjazz.com: by Rachel Myerson
If you love using flowers on your layouts and cards, but don't always have the right color of flower to use, it might be a good time to start making your own. Handmade flowers can be made of many different materials, including ribbon. In this article, we will discuss two very simple ways to make beautiful ribbon flowers.
Our first flower is a pleated flower. All you need is a piece of ribbon, a needle, and thread. I used a wide ribbon that came on a holiday package. Consider reusing these types of ribbons as a way to save money. Wide ribbons will make larger flowers, and narrow ribbons will make smaller flowers.
Cut your ribbon to the desired length. For this example, my ribbon was about 1 ½" wide and I used about 24" of ribbon. The wider the ribbon, the longer the piece you will need.
Thread the needle and tie a knot a few inches from the end of the thread.
Weave the needle in and out along one edge of the ribbon.




When you reach the end of the ribbon, pull on both ends of the thread until one edge pleats up into a circle. Tie the ends of the thread together and trim them.




To complete your flower, add a button or other item in the center.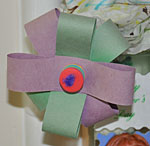 The next flower was inspired by this flower my son made at preschool. His was made from construction paper so it faded, but you could easily make this flower from strips of patterned paper or ribbons. To make this type of flower from ribbons:


Cut ribbon into three strips of equal length.
Fold each ribbon into two loops (as shown in the photo) and fasten the center together using glue dots or a similar adhesive.




After you have folded each ribbon, arrange them on top of each other, holding the center together with more glue dots.




Add a button or flower center to complete your flower.




Try experimenting with different sizes of ribbons, or mixing different ribbons on a single flower. I hope you enjoy making these easy ribbon flowers and using them on your projects.